S
e
t

M
e
n
u A
u
t
u
m
n

C
r
a
b

S
e
t


M
e
n
u N
T
$

2
9
8
0
Autumn Crab Set Menu
NT$ 2980/person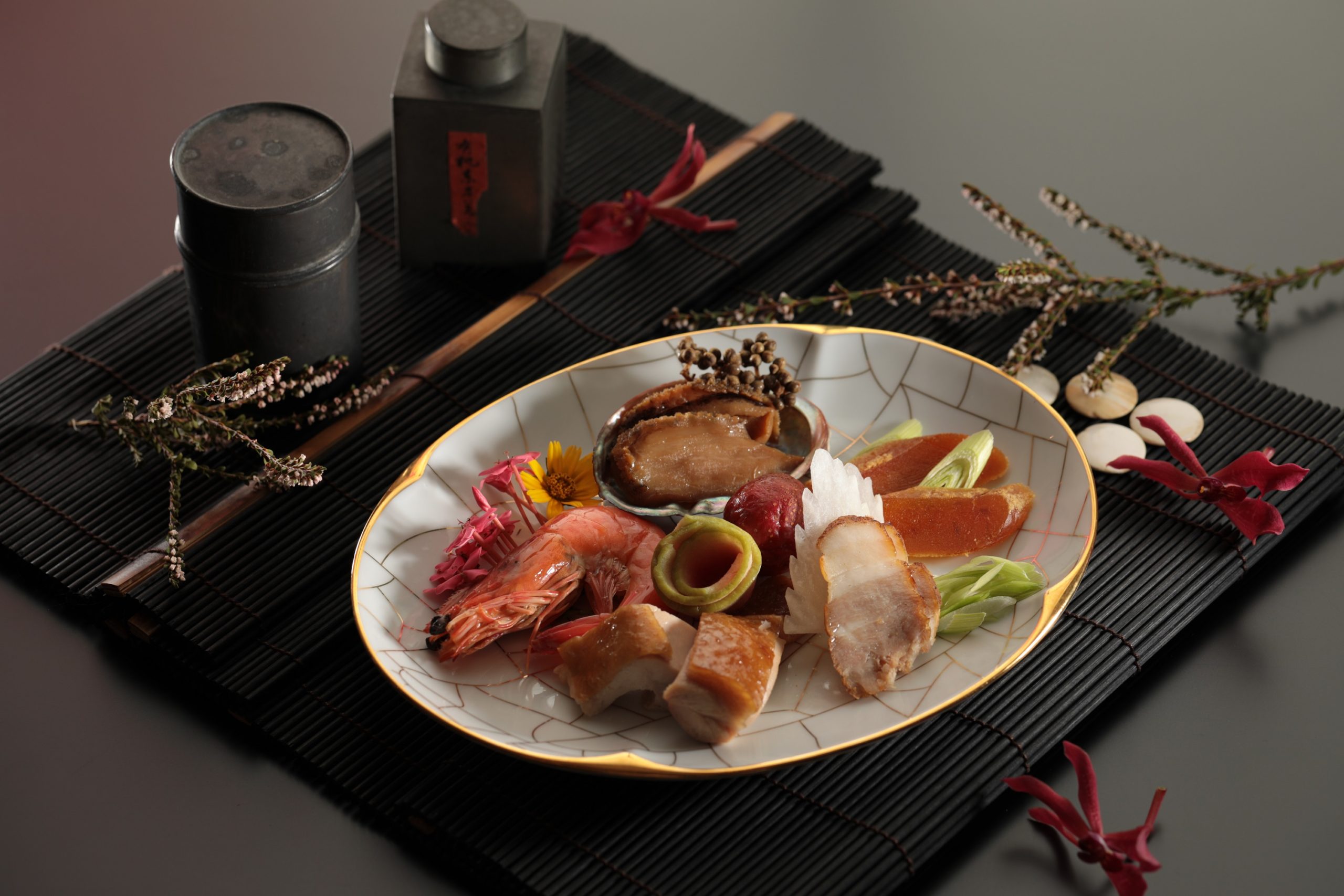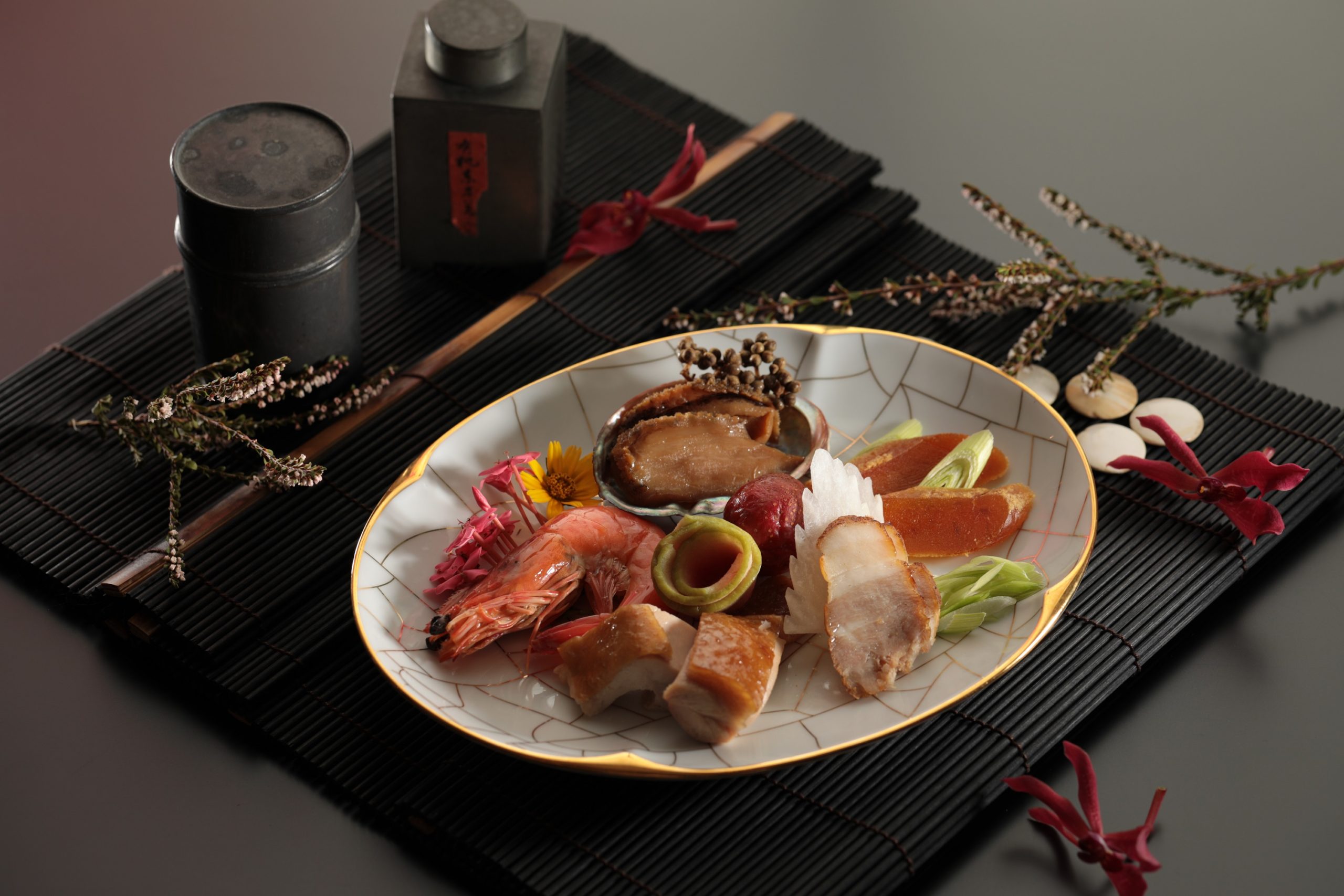 Chef's selection platter.....
It includes Sugar Can Smoke...
It includes Sugar Can Smoked Chicken, Wild Abalone Stewed in Tana Spice, baked wild mullet roe, Herbal Drunken Shrimps, 

Yilan Shrimp Puffs, 

and Hongqu braised pork.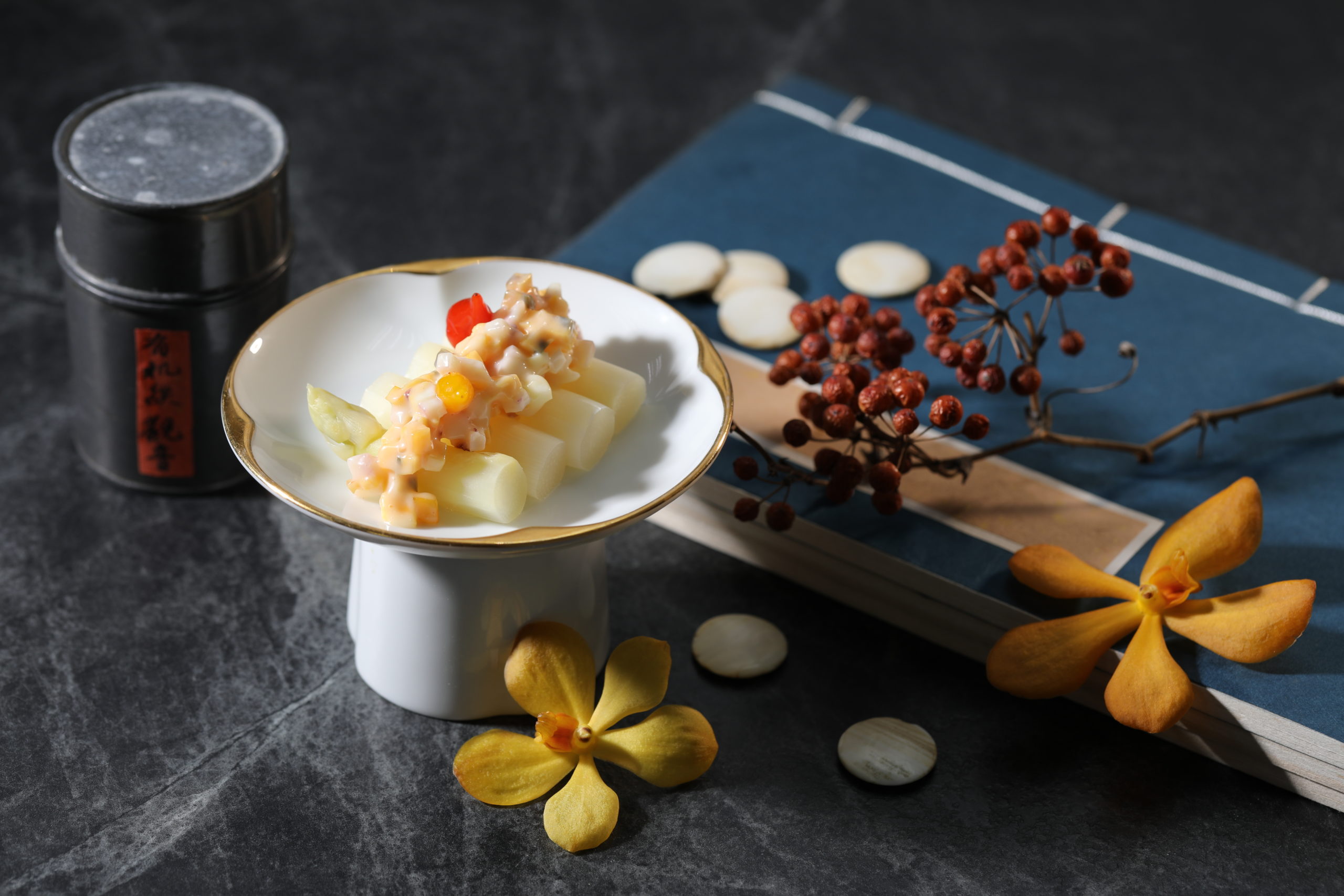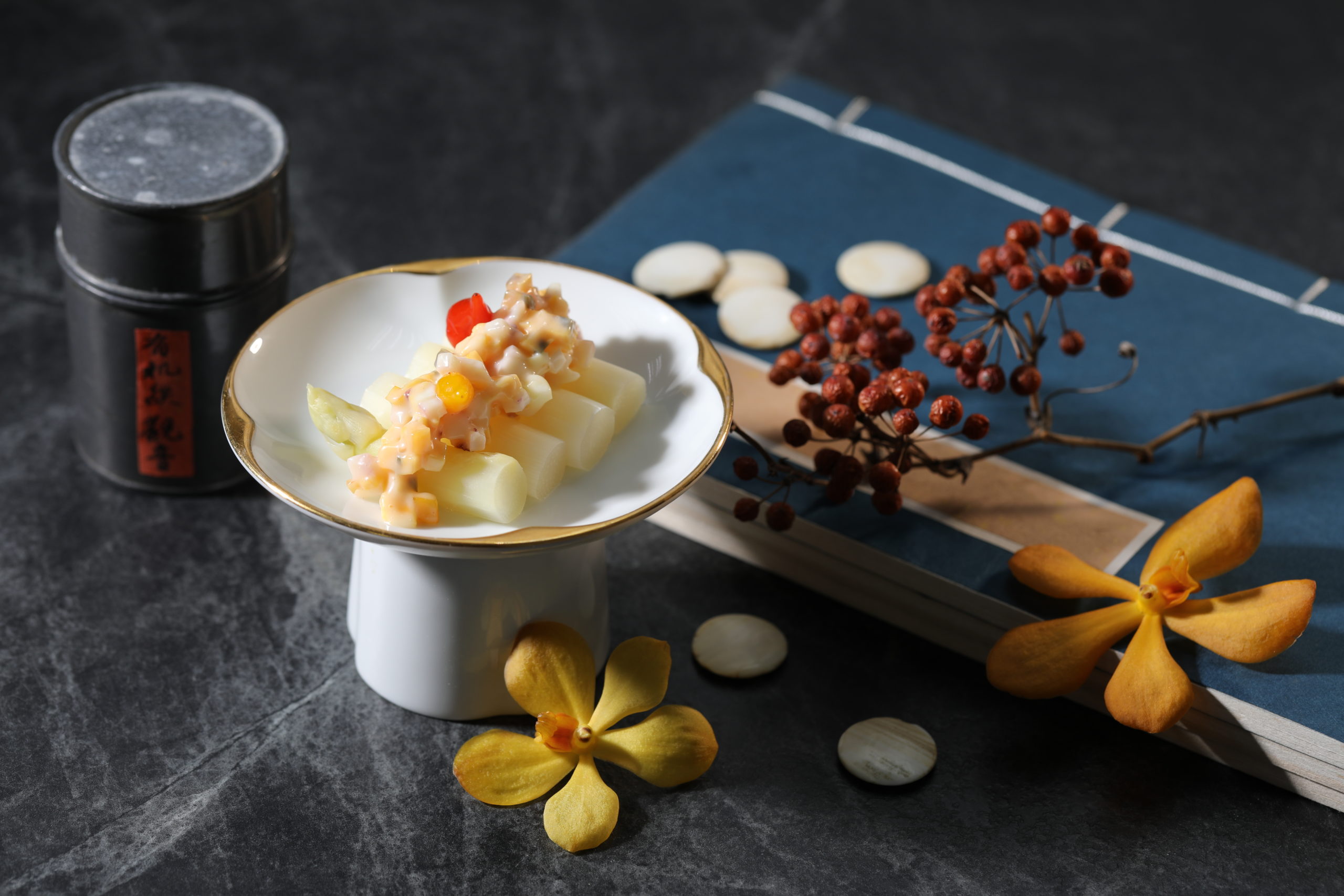 White Asparagus Salad
Pearly and tender premium w...
Pearly and tender premium white asparagus, also affectionately known as the "Queen of Vegetables", have been specially selected for this dish. The simple black pepper seasoning brings out the freshness and sweetness of the white asparagus, which is also complemented by diced tricolour steamed egg and squid before mayonnaise is mixed in. As a final touch, some spices are sprinkled onto the salad to accentuate the tender and juicy texture of the white asparagus, giving rise to an elegant and exquisite dish.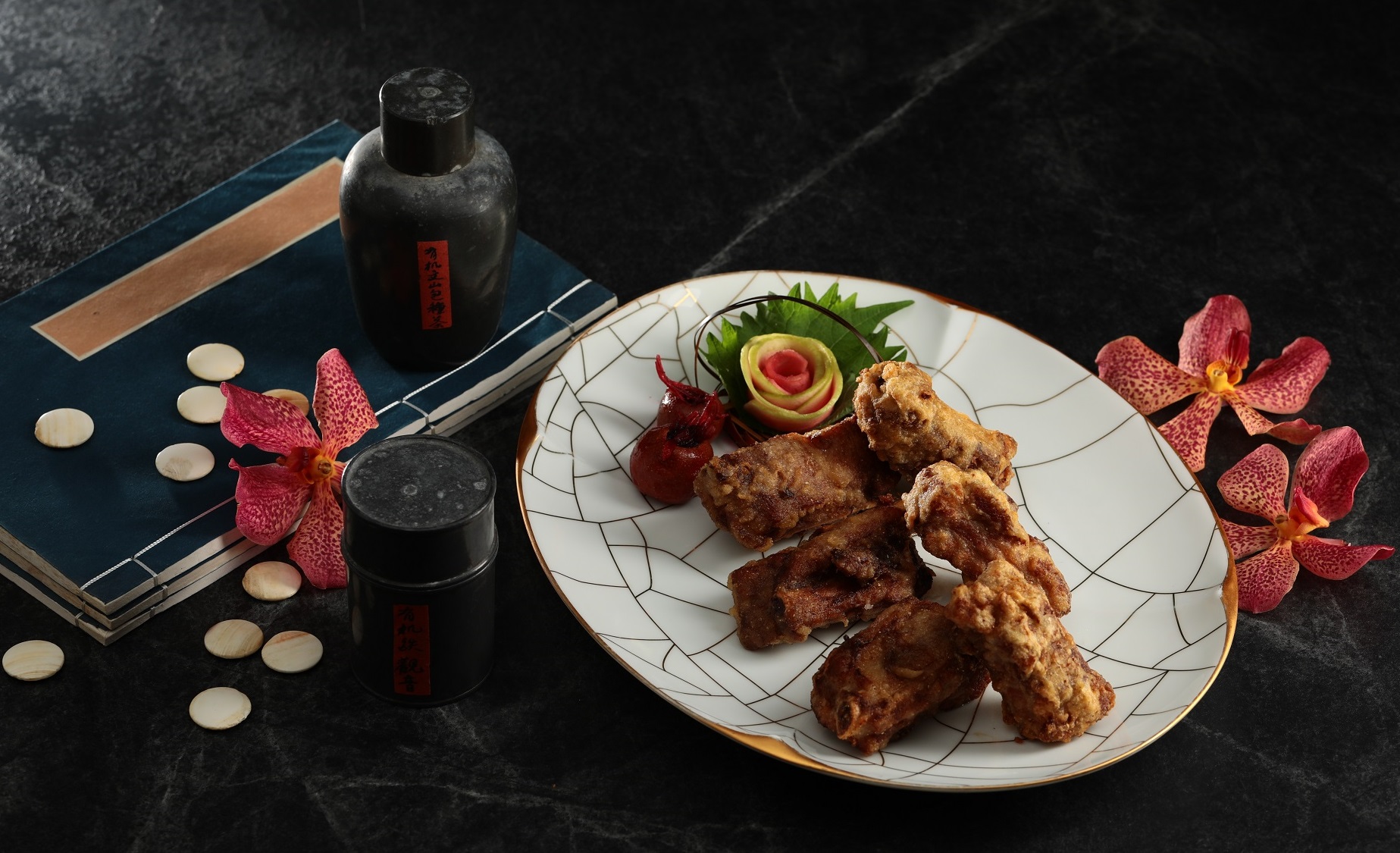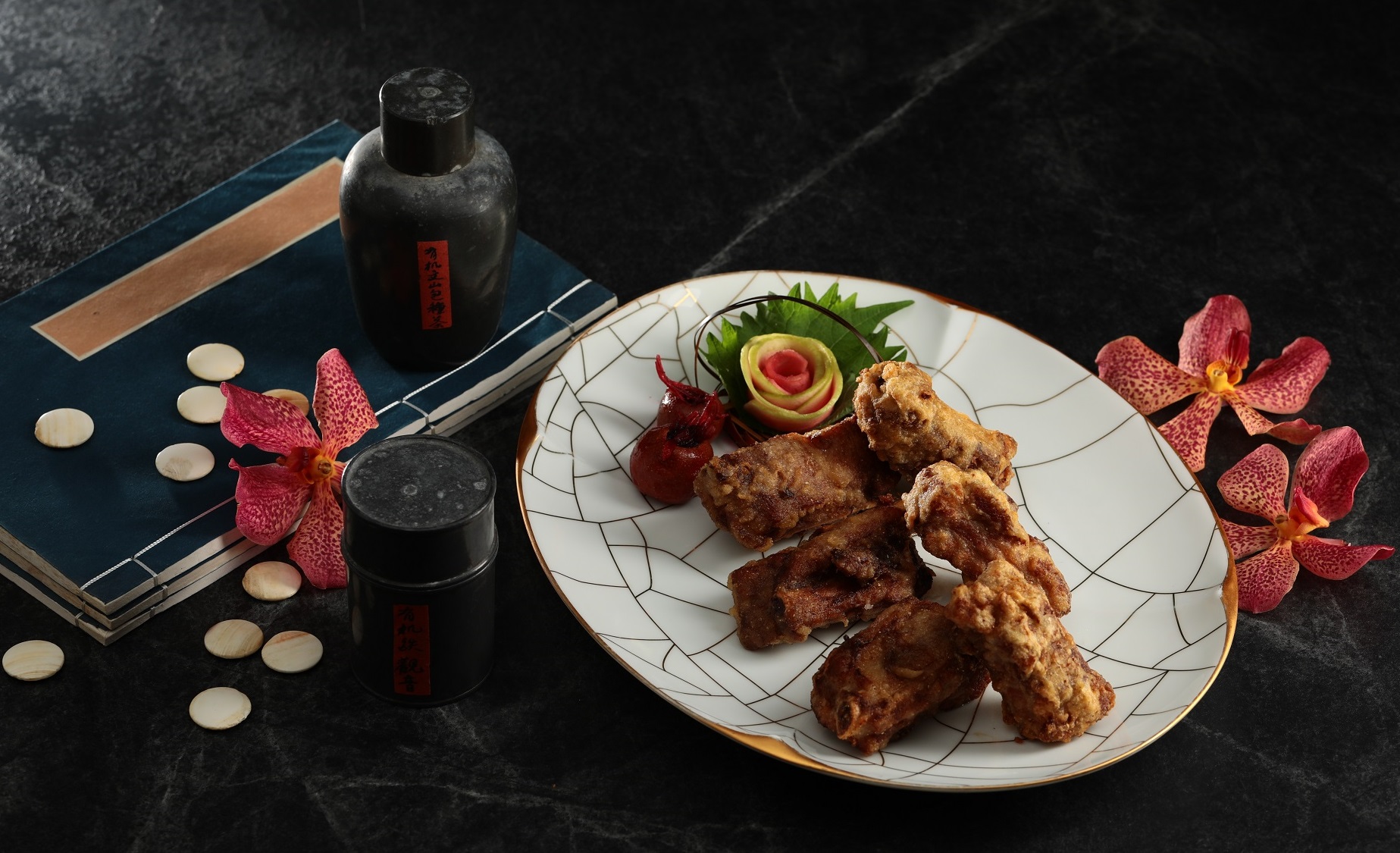 Crispy-fried Pork Ribs
A classic Beitou specialty:...
A classic Beitou specialty: streaky pork ribs marinated in organic preserved vegetables, fried crispy on the outside with a sweet juicy inside.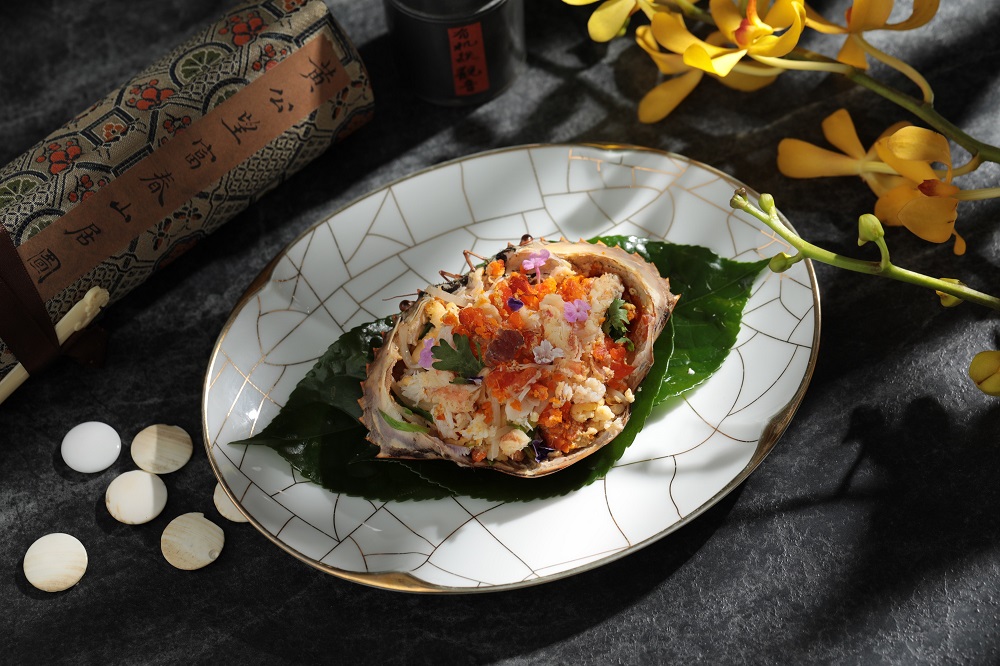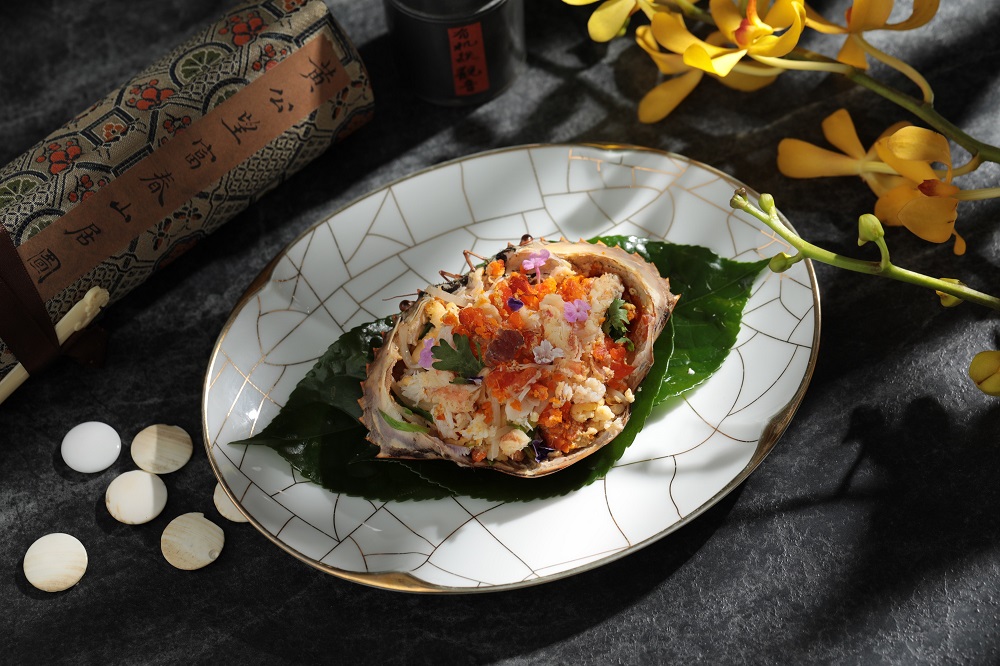 Osmanthus Xiefen
The crab paste and crab roe...
The crab paste and crab roe used in this dish are obtained from fresh seasonal crabs by chefs every day by hand, which are then fried until oil is produced, before delectable crab meat is added to the mix. The result of this complex culinary process is commonly referred to as "crab powder" and boasts a taste that is heavenly and extravagant. Duck eggs are then mixed in and stir-fried quickly over a strong fire so that the egg turns golden and fine, visually resembling osmanthus flowers. This aromatically arresting dish is one that puts the chef's control of heat and fire to the test. It brings together the crisp and sweetness of bean sprouts, bamboo shoots, and water chestnuts, the aroma and chewy texture of duck eggs, and the freshness and succulence of autumn crabs. Every mouthful of the dish is the product of exceptional skill.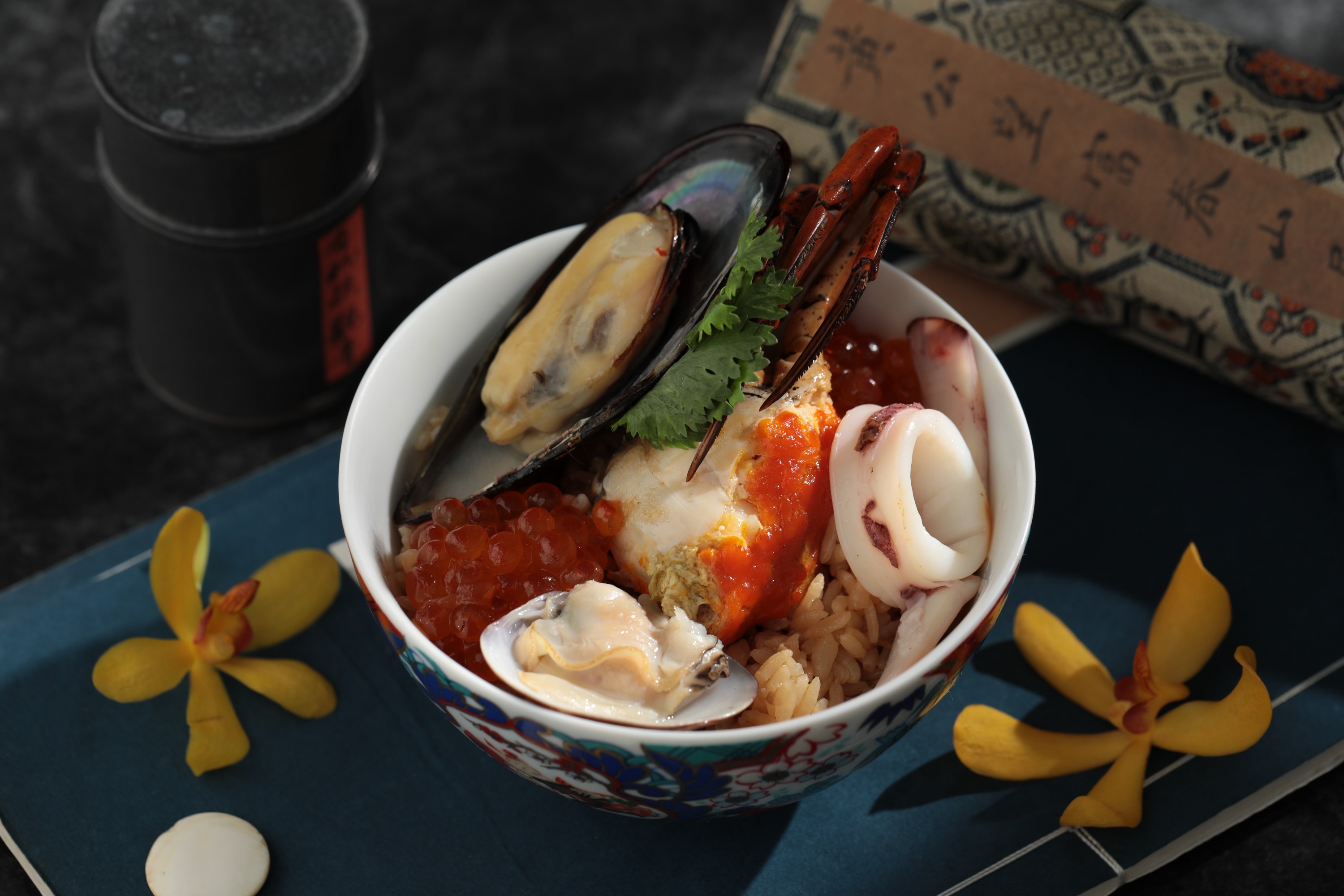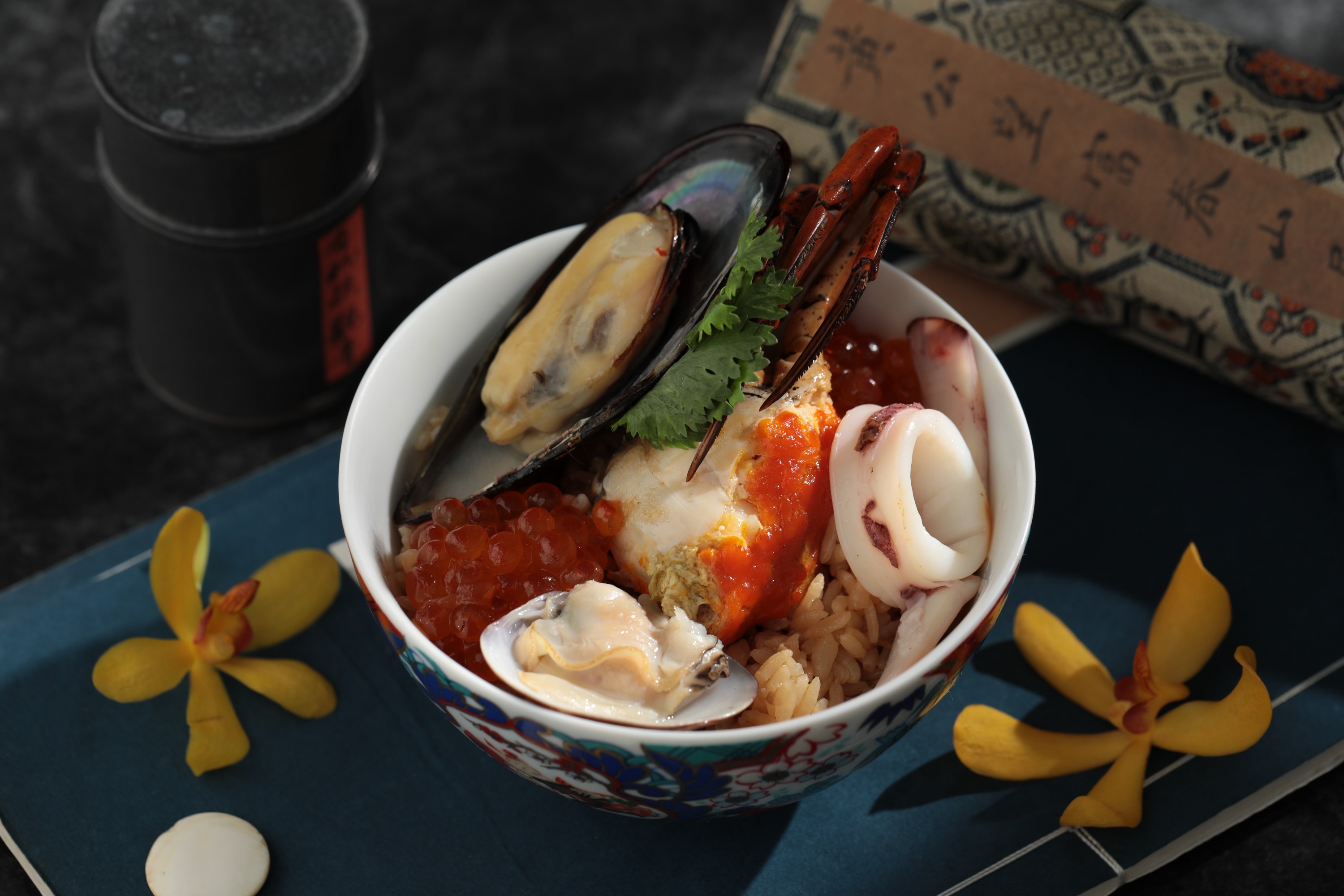 Premium Mud Crab Seafood Sticky Rice
Live wild crabs have been c...
Live wild crabs have been carefully selected to be the star of this dish. These crabs are fleshy and well-grown, each weighing a minimum of 12 liang (around 450g), and have been tested for veterinary drugs and heavy metal residues, making them a safe and hearty meal to be enjoyed. The succulent and sweet crab meat is placed on the aromatic rice cake that has been stir-fried with log mushrooms, chestnuts, and sun-dried shrimps from Penghu. Then, the dish is steamed, during which the glutinous rice soaks up the savory goodness of the juicy crab meat. The mouth-watering rice cake and rich-tasting crab meat are then brought together with various seafood delicacies such as braised abalone, mussels from Matsu, salted squid, clams with garlic, and salmon roe from Japan. The dish is a seafood carnival starring the best seafood that Taiwan has to offer.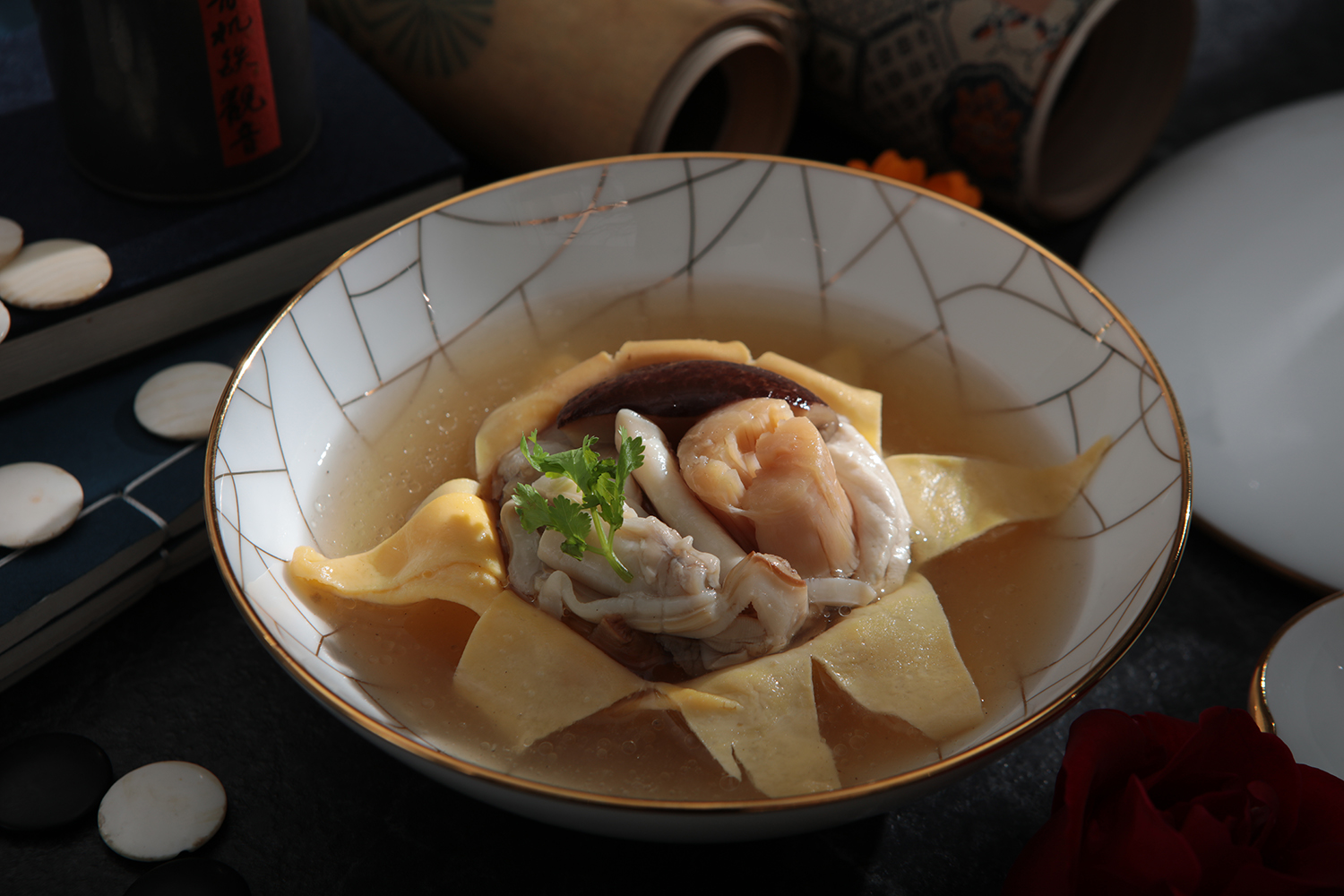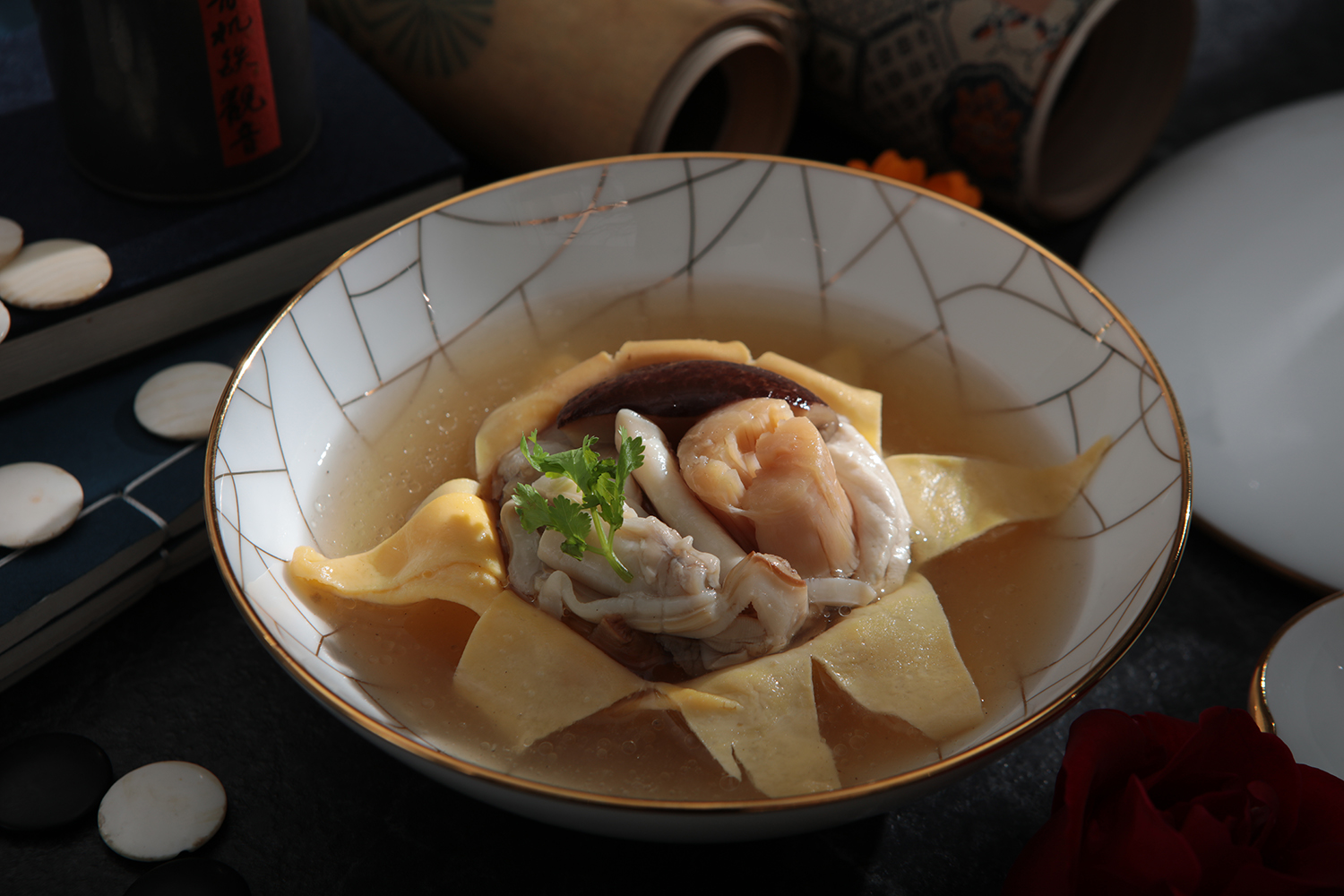 Crab and Chrysanthemum Soup
It's a dish served in the r...
This was a very popular banquet dish in the early days. The chrysanthemum is made with eggs, and wrapped within the petals of the chrysanthemum are crab meat ,matsutake mushrooms, shitake mushrooms, and jackknife clams. The soup is delectable.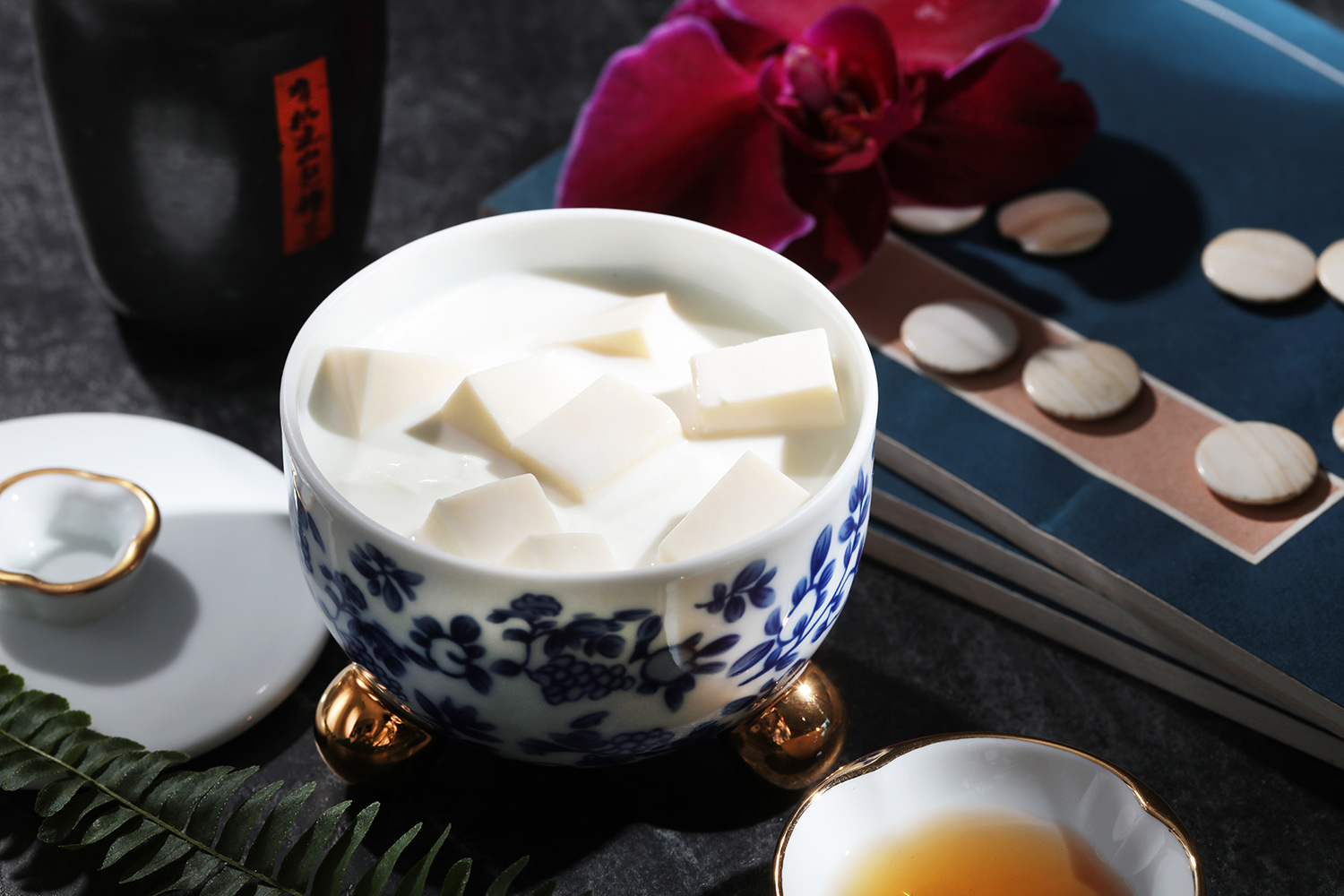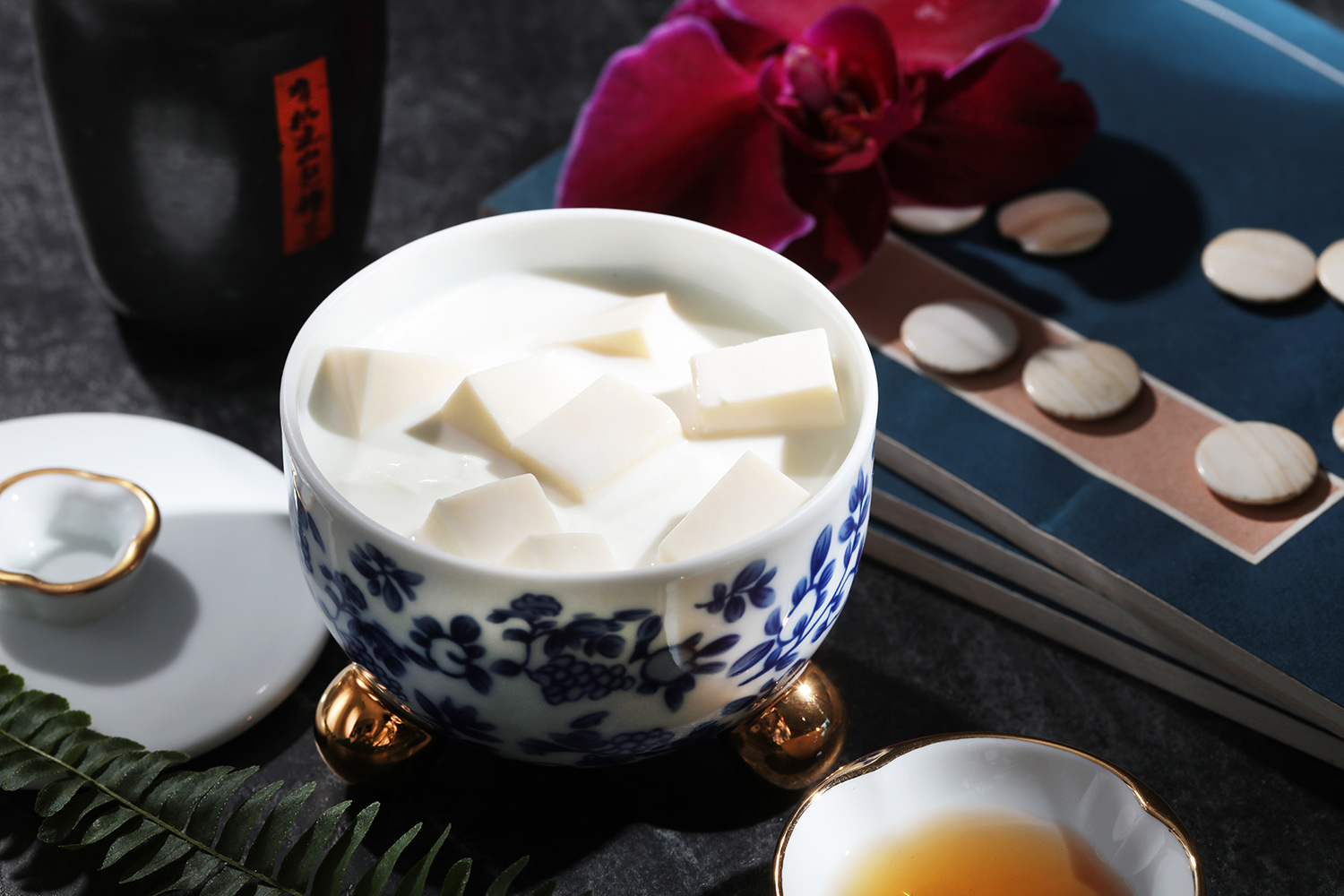 Almond Jelly
Yilan Chef A-Hai's signatur...
Yilan Chef A-Hai's signature banquet dessert. A mix of peanuts and almonds, hand whipped for 40 minutes, and transformed into the perfect gelatin dessert. A delicious jelly with no artificial flavors or additives.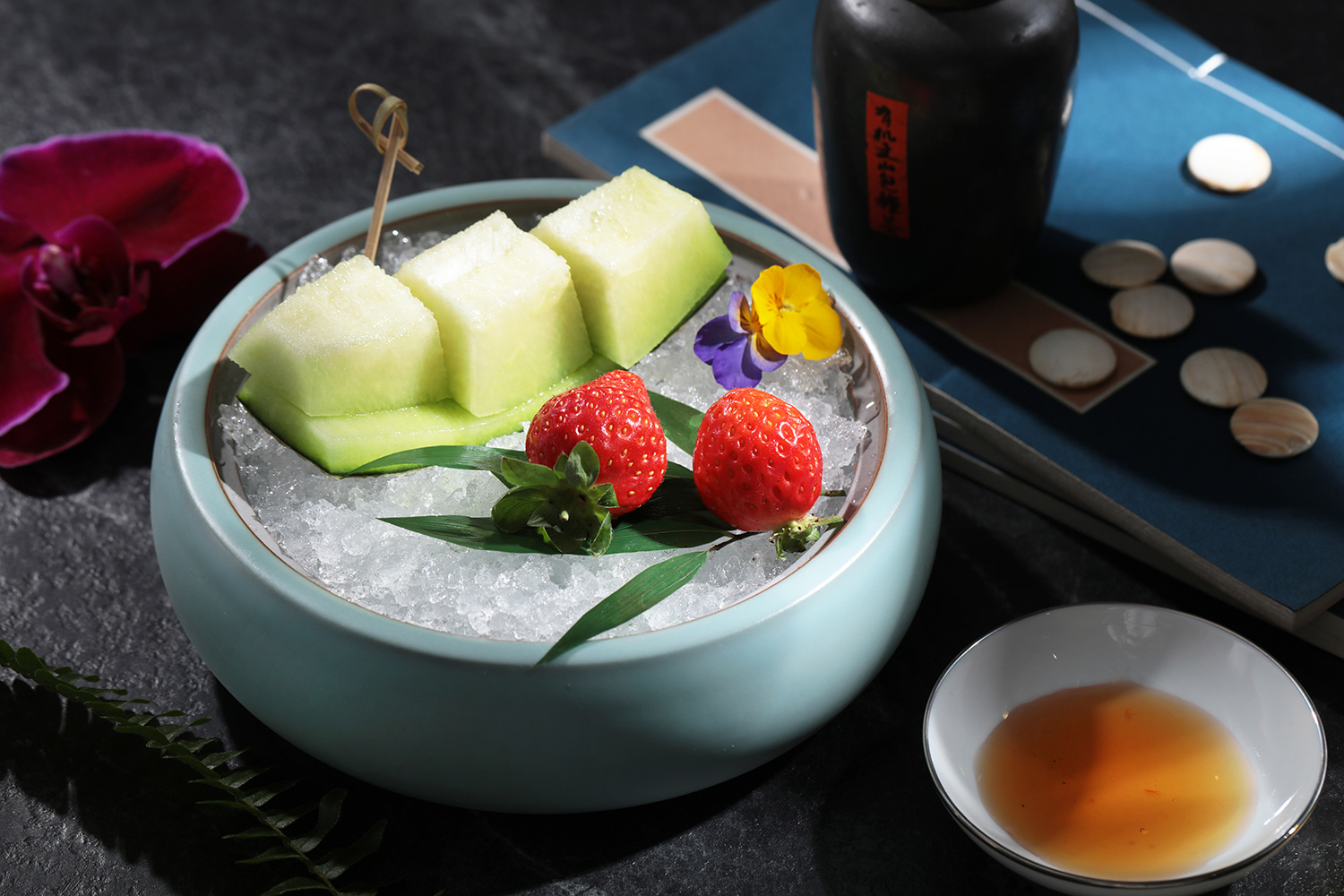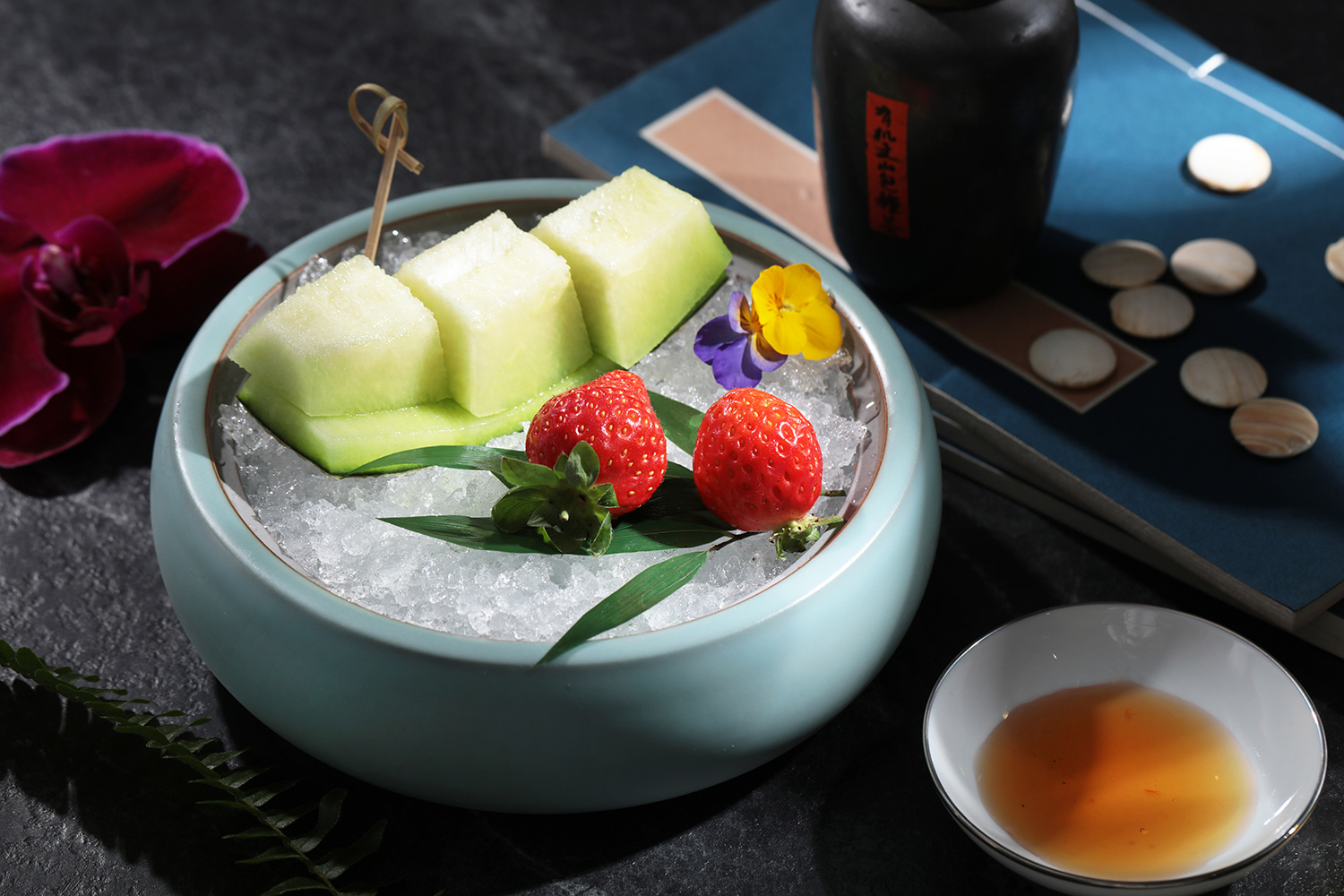 Seasonal Fruit
A selection of the choicest...
A selection of the choicest organic, seasonal fruits from across Taiwan.
This set of tableware and dishes are for reference only.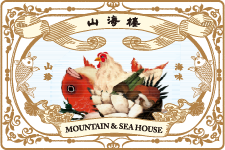 Address
No.94, Sec. 2, Ren'ai Rd., Zhongzheng Dist., Taipei City 100, Taiwan
Autumn Crab Set Menu
NT$ 2980/person
Chef's selection platter.....

White Asparagus Salad

Crispy-fried Pork Ribs

Osmanthus Xiefen

Premium Mud Crab Seafood Sticky Rice

Crab and Chrysanthemum Soup

Almond Jelly

Seasonal Fruit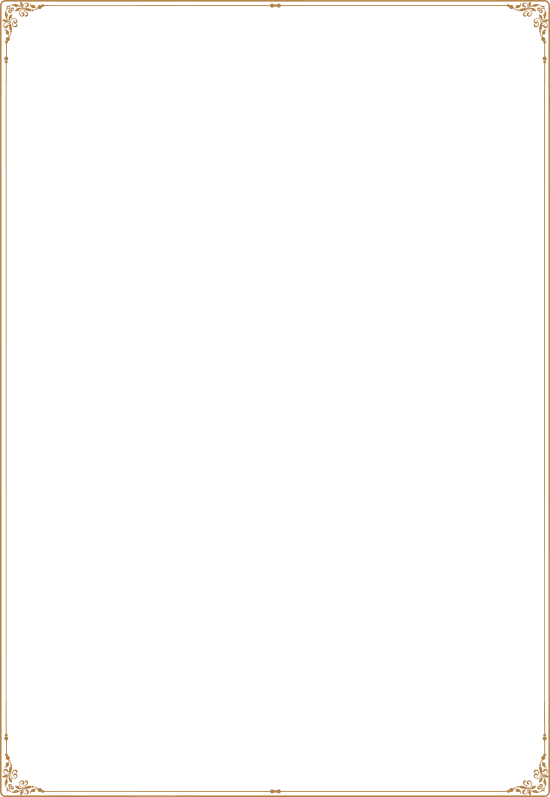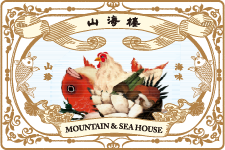 Mountain and Sea House
Address
No.94, Sec. 2, Ren'ai Rd., Zhongzheng Dist., Taipei City 100, Taiwan
facebook