Brand spirit
Mountain and Sea House
Taiwan is famous for delicious food. Yet, most people associate Taiwanese food with street food in the night markets instead of exquisite haute cuisine. Actually there were many restaurants in Taiwan serving haute cuisine banquet food from the early 20th century to the 60s and 70s; however, many haute cuisine restaurants have faded away for various reasons. As a result, many specialty dishes have become extinct. Street food, home cooking and haute cuisine are essential to any culture and are equally important.

At the Mountain and Sea House Restaurant, we are dedicated to reacquainting ourselves with Taiwan's culinary history and tradition. We have re-created traditional dishes with a contemporary flair. It is our belief that the culinary process begins in the farm, not the kitchen. Authentic flavors can only be created through natural cultivation approaches, and using local ingredients. We are committed to preserving the environment and our health. The food we serve and our table setting décor vary with the changing seasons. We have searched for our culinary roots and heritage by consulting master chefs and old recipes, but we also embrace innovative cooking techniques and concepts.

Taiwan is a relatively small island surrounded by the ocean, yet it also features sweeping plains, undulating hills and towering mountains. A plethora of delicacies from the mountains and the sea are readily accessible within a few hours' drive. Our culinary bloodline is comprised of the indigenous tribes of Taiwan, the Hokkien, Cantonese, and other provinces of China, as well as Japanese and Dutch influences. The diversity is reflected in the ingredients, seasoning and cooking methods. Our cuisine is a rich tapestry of vibrant colors and tantalizing flavors.

We sincerely hope you will enjoy the delicacies we serve at the Mountain and Sea House Restaurant. Your appreciation of the feast that we prepare for you will encourage us to continue to do our utmost to serve you.
Chef Team
Kitchen Director Tsai Jui-lang
Working in the culinary industry for over 26 year, and having considerable expertise in Taiwanese cuisine, he has learned cooking skills with Huang Te-hsing, the head chef of Penglaige. He has learned more than 10 Taiwanese dishes from the 1930s passed on by the chef Mr. Huang, and he is recognized as the best successor of those classic dishes in modern times. He has great expectations and passion for the restoration of Taiwanese cuisines, and always thinks over the skills required and spirit that each old-time Taiwan dish reveals. It's hoped that Taiwanese cuisines will be launched to the international stage and make all the people of Taiwan feel proud of the glory and attractiveness of Taiwanese dishes.
Head Chef of Mountain and Sea House Hsiao Sheng-chang
Working in the culinary industry for over 20 years, his solid foundation of cooking Taiwanese dishes was built up during the time when the trend of banquet cuisine was popular in Taiwan. He has always followed his master in thousands of banquet parties from north to south of Taiwan, and he has great passion for the culture surrounding banquet parties. After learning cooking skills with the head chef of Penglaige Huang Te-hsing, he merges the spirit of exquisite Taiwanese dishes of the 1930s with the culture of banquet party in order to make all guests feel the spirit of Taiwanese cuisines and remember the historical stories served with each dish.
History of Taiwan Gourmet
"Step into Kamg San Lau, Eat Taiwanese dishes, Listen to artists singing songs." This saying is the best descriptionof those prosperous Taiwanese restaurants in Japanese colonial period. Dadaocheng, which is located by the Tamsui River became an international commercial city because of its geographical location. The business supplies and needs from north to south of Taiwan created many high-class restaurants in this area. Kamg San Lau, Penglaige, Chunfengdeyi and Dong Hui Fang are the four largest restaurants. At that time when Japanese occupied Taiwan, the dishes were called "Taiwanese cuisine" for better distinguishment.

Taiwanese cuisine is a combination of the best tastes from Minnan, Guangdong and Japan. In 1945, the end of Japanese colonial period, supplies were scarce and the political and economic situations forced the restaurant closed, which is a period regarded as the gap in the history of Taiwanese cuisine. Afterwards, until the 1960s, the restaurants in Dadaocheng and Beitou area had a sign of restoration. However, due to only a few chefs existing and the complicated process of crafty dishes, banquet cuisines in 1930s became rare and were replaced by renowned side dishes that go with wine and late night snacks.

On this land of Taiwan with complex cultural mixture has created various recipes for Taiwanese cuisines. Although it's hard to make a final definition for Taiwanese cuisine, Mountain and Sea House puts efforts on passing on traditions and reviving the banquet cuisines in 1930s in order to make more and more people remember the glory of Taiwanese cuisines.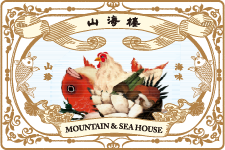 Mountain and Sea House
Address
No.94, Sec. 2, Ren'ai Rd., Zhongzheng Dist., Taipei City 100, Taiwan
facebook