Lan Set Menu



chef's special
It includes Sugar Can Smoke...
It includes Sugar Can Smoked Chicken, Wild Abalone Stewed in Tana Spice, baked wild mullet roe, Herbal Drunken Shrimps, and Atayal Maqaw Roast Pork.




White-Flowered Gourd
Self-cultivated organic whi...
Self-cultivated organic white-flowered gourds and organic carrotsfrom the farm are interwoven to form the crisscross pattern, stuffed with black pork and various types of mushrooms, including Brazilian mushrooms, king trumpet mushrooms and oyster mushrooms.The dish is completed by sprinkling chicken broth at the end in order to offer a refreshingly charming taste.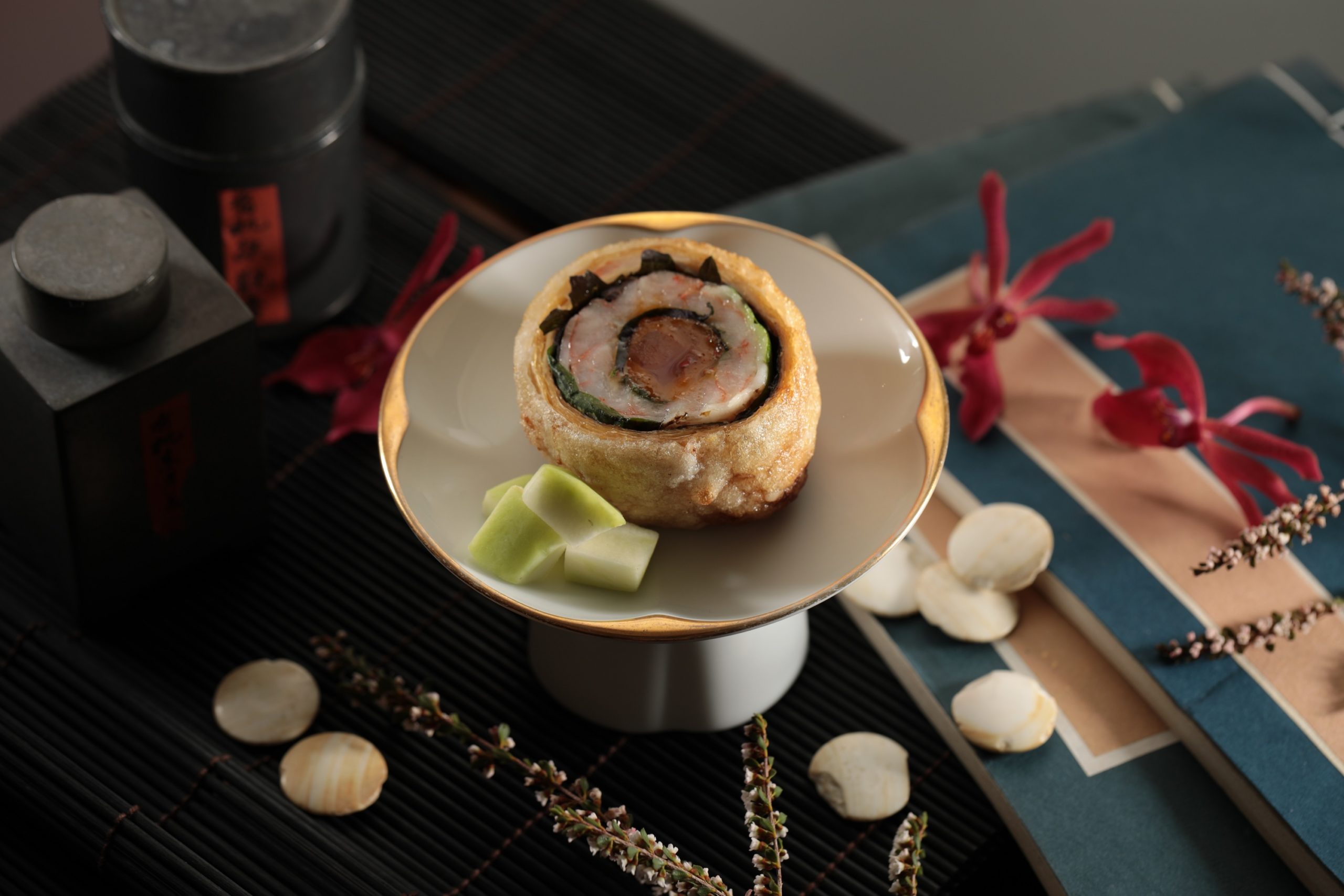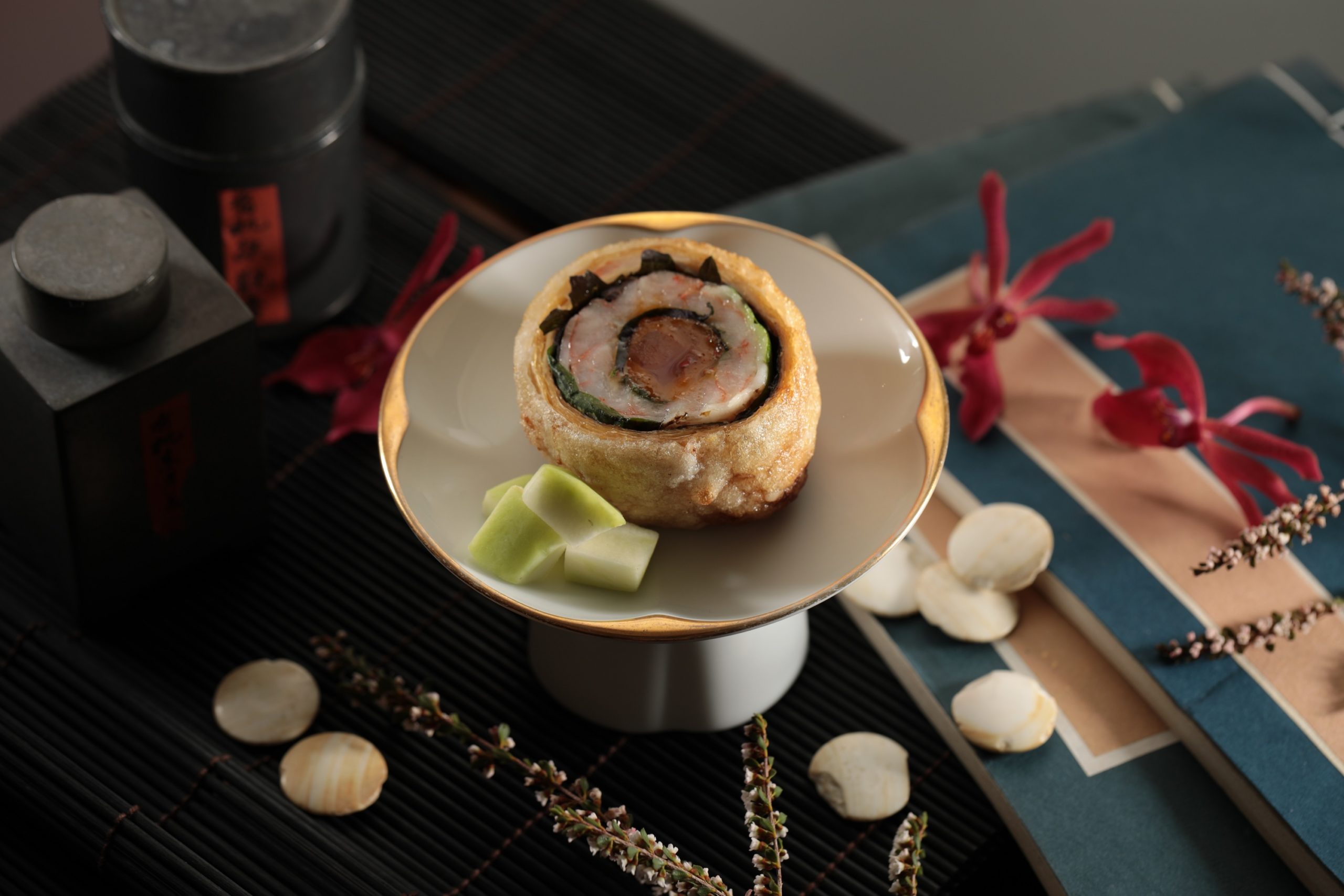 Taipingting Rose Prawns
Fresh ecological live prawn...
Fresh ecological live prawn meat is wrapped with mullet roe, salty duck egg yolk, and Erfan tofu skin, which is then covered in prawn paste, nori slices, garlic bolt slices and coriander leaves…etc., like layers of a blooming rose. This cuisine was a popular restaurant dish around Taipingting (currently Yanping South Road)


Suckling Pig(1&2 dishes)..
Master Te-Hsing Huang from ...
Master Te-Hsing Huang from Peng Lai Restaurants used mainly Fujian-style culinary skills, and this cuisine has not been made since Master Huang left Peng Lai Restaurants, as no one is willing to reproduce the complicated production process. When this cuisine reappeared, Master Huang said emphatically, "This cuisine has not been seen for more than 50 years"

This cuisine may be enjoyed in three ways, the first being the crispy pork skin.The second is the tender pork rib, and the third is stir-frying the remaining meat with pickled Chinese cabbage, and then serving it in steamed buns. There are four different flavors of sauces, including the western-style honey mustard, the lemon sauce similar to Japanese-flavor, the Taiwanese sweet sauce made of fermented flour, as well as the vinegar and garlic sauce for your selection. The diverse sauces also seem to represent the past glory of Dadaocheng with the fusion of different cultures.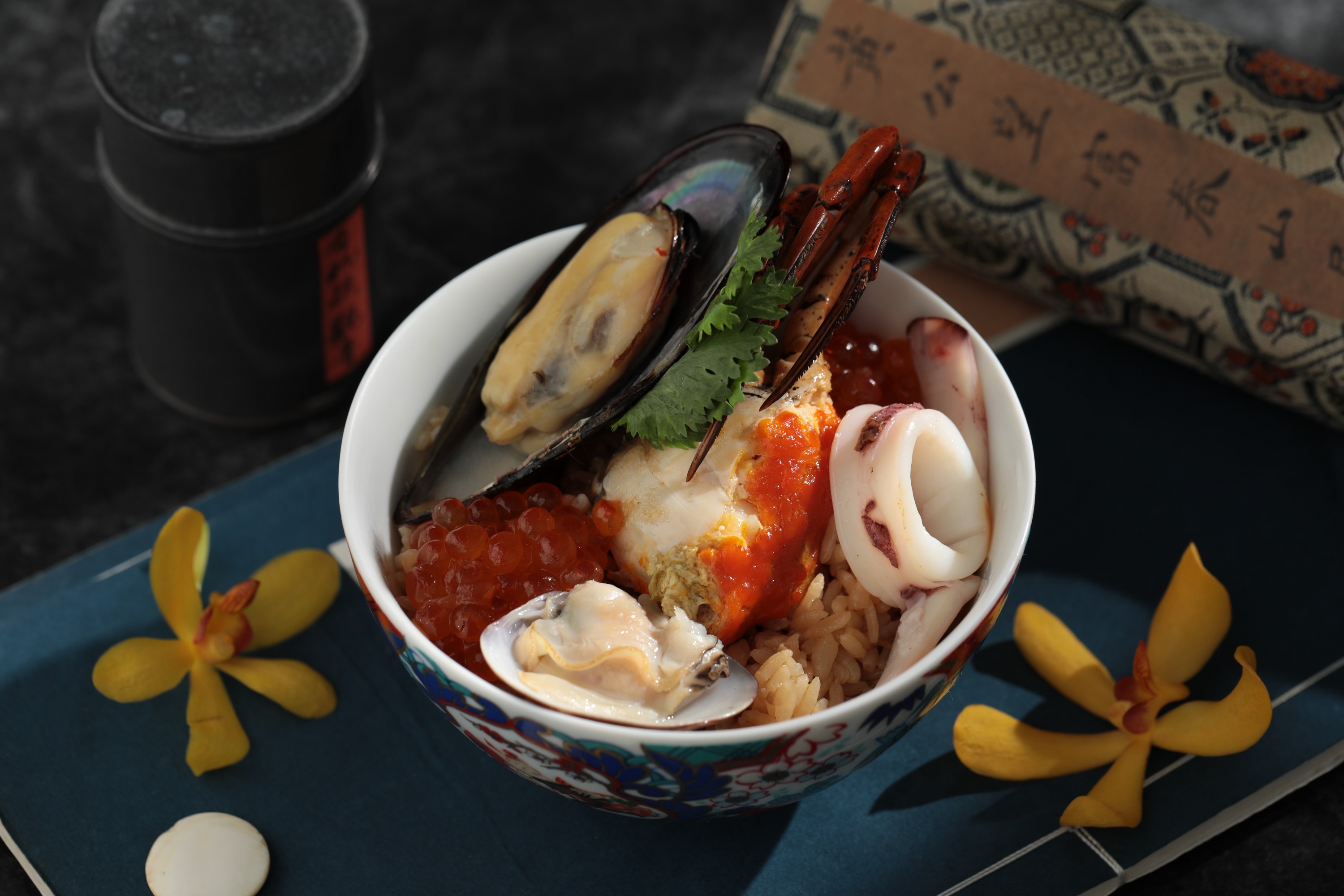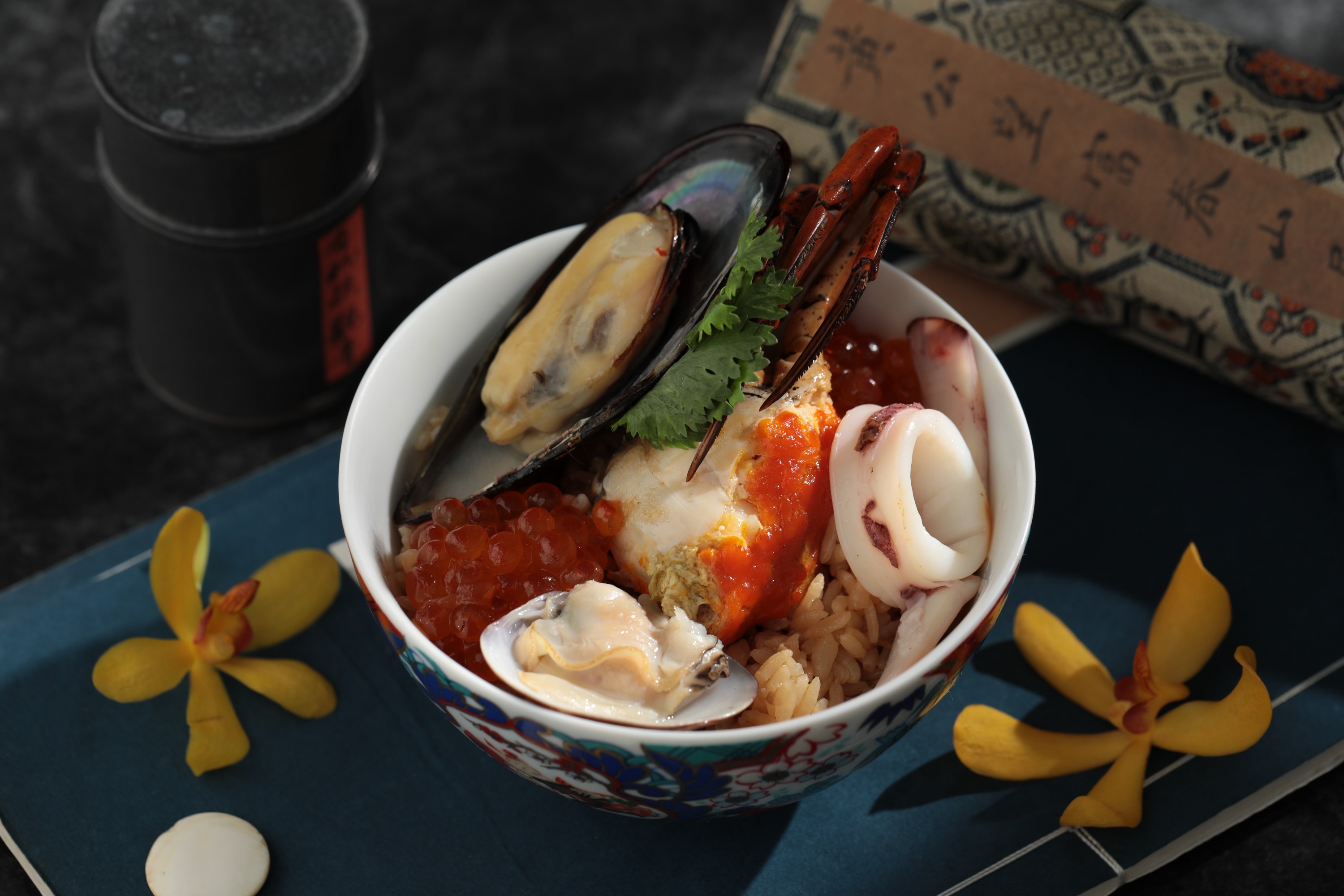 Premium Mud Crab Seafood Rice Cake
Live wild crabs have been c...
Live wild crabs have been carefully selected to be the star of this dish. These crabs are fleshy and well-grown, each weighing a minimum of 12 liang (around 450g), and have been tested for veterinary drugs and heavy metal residues, making them a safe and hearty meal to be enjoyed. The succulent and sweet crab meat is placed on the aromatic rice cake that has been stir-fried with log mushrooms, chestnuts, and sun-dried shrimps from Penghu. Then, the dish is steamed, during which the glutinous rice soaks up the savory goodness of the juicy crab meat. The mouth-watering rice cake and rich-tasting crab meat are then brought together with various seafood delicacies such as braised abalone, mussels from Matsu, salted squid, clams with garlic, and salmon roe from Japan. The dish is a seafood carnival starring the best seafood that Taiwan has to offer.


Scallop and Chrysanthemum Soup
It's a dish served in the r...
This was a very popular banquet dish in the early days. The chrysanthemum is made with eggs, and wrapped within the petals of the chrysanthemum are scallops,matsutake mushrooms, shitake mushrooms, and jackknife clams. The soup is delectable.


Wild Ginger Lily Aiyu Jelly
Alishan Mountain wild aiyu ...
Alishan Mountain wild aiyu hand-washed by the chef with the addition of organic wild ginger lily.


Seasonal Fruit
A selection of the choicest...
A selection of the choicest organic, seasonal fruits from across Taiwan.
The above price is subject to 10% service charge.
This set of tableware and dishes are for reference only.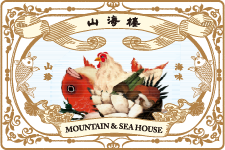 Address
No.94, Sec. 2, Ren'ai Rd., Zhongzheng Dist., Taipei City 100, Taiwan
Lan Set Menu
chef's special

White-Flowered Gourd

Taipingting Rose Prawns

Suckling Pig(1&2 dishes)..

three ways to eat

Premium Mud Crab Seafood Rice Cake

Scallop and Chrysanthemum Soup

Wild Ginger Lily Aiyu Jelly

Seasonal Fruit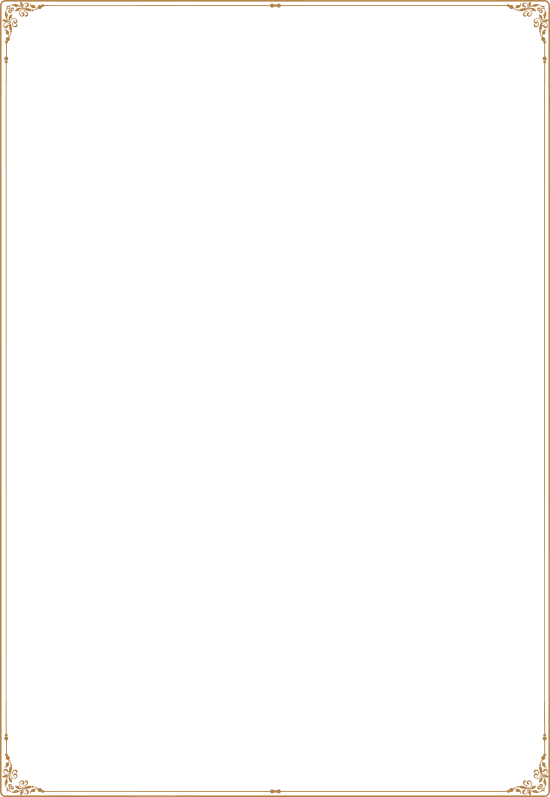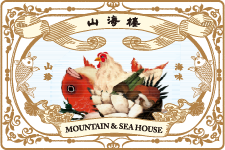 Mountain and Sea House

Address

No.94, Sec. 2, Ren'ai Rd., Zhongzheng Dist., Taipei City 100, Taiwan

facebook

">