Autumn Crab Set Menu
NT$ 3680/person


Pomelo Crab Jelly Pie
Despite its resemblance to ...
Despite its resemblance to French Terrine, the dish harbors an authentically Taiwanese soul. The spirit of crabmeat balls, a traditional dish served in local restaurants during the period of Japanese rule, is alive and well within this culinary creation. As summer transitions into fall, pomelo season descends upon us. Pieces of sweet seasonal pomelos from 60-year-old trees grown in Madou, Tainan, serve as the base of this dish. Red and juicy crab roe, a favorite among gourmets, is layered on top of the pomelo together with fresh, tender, and succulent crabmeat. Premium 18-year Shaoxing wine is then added to bring out the aroma of the ingredients to create a wonderfully layered dish saturated with the flavorful essence of the sea, served with a clear soup made from cold-pressed tomato juice.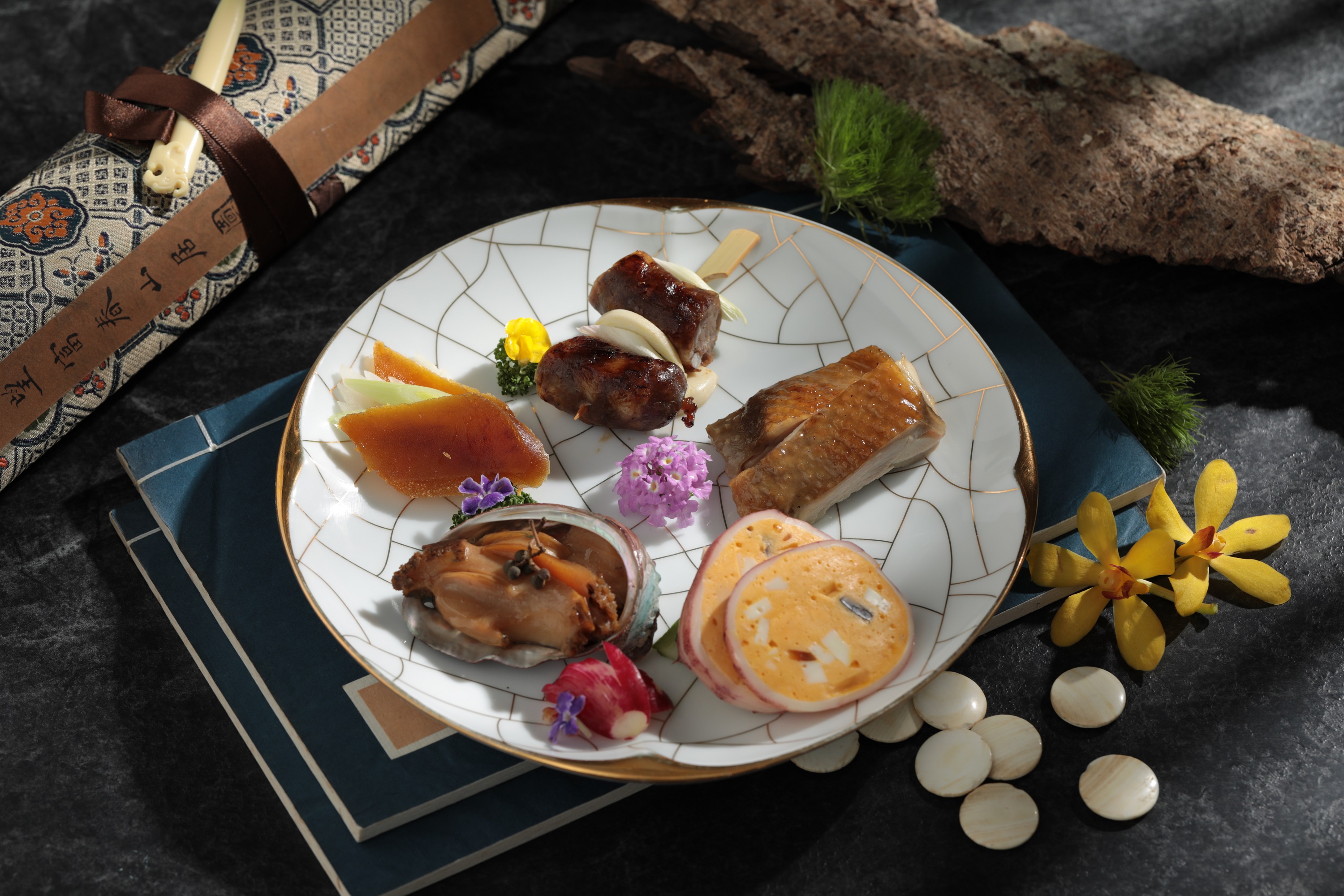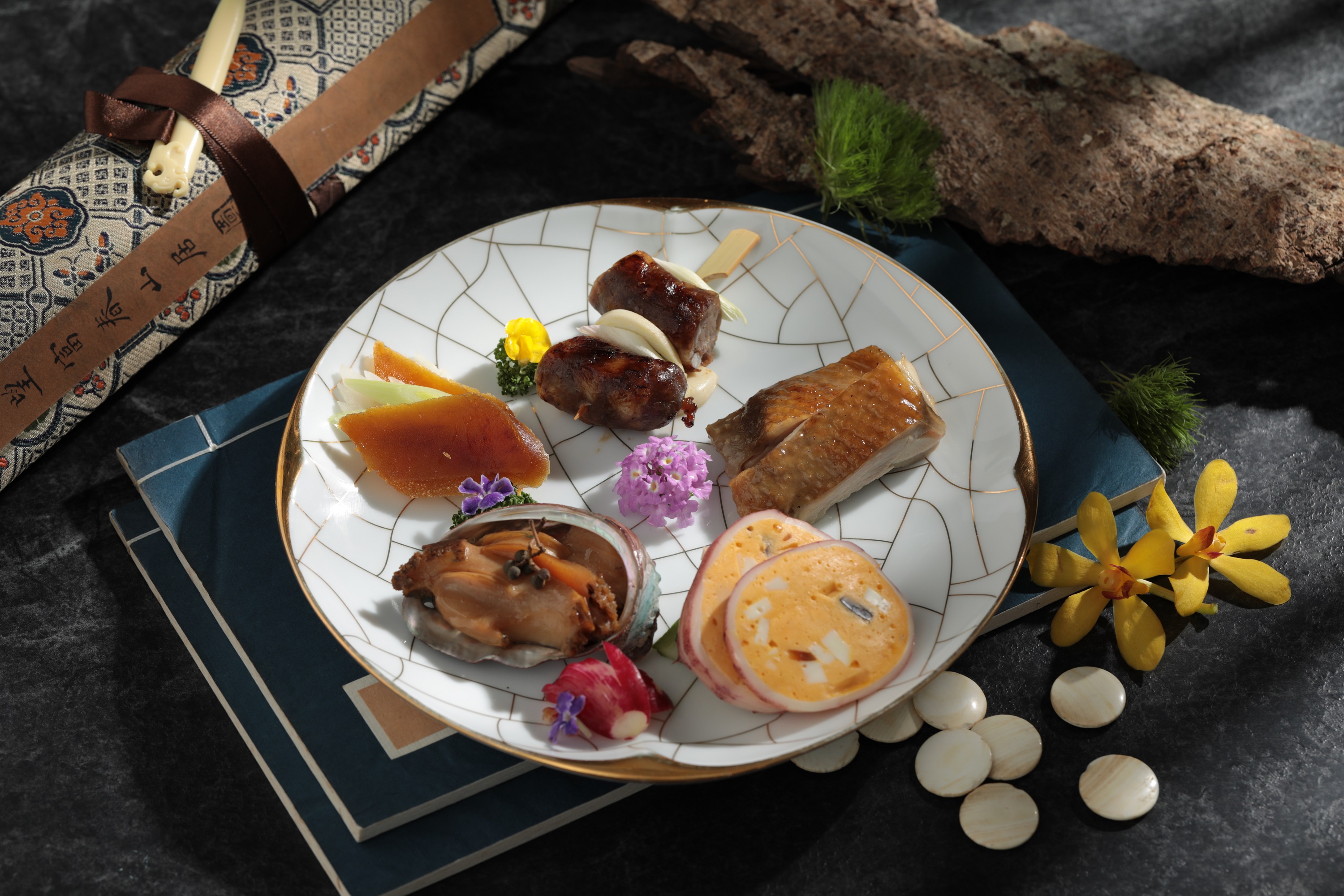 Chef's Special
It includes Sugar Can Smoke...
It includes Sugar Can Smoked Chicken, Tana-Braised Wild Abalone, Additive-free Chinese Sausage,  Three-color Egg & Squid Roll, Freshly Baked Mullet Roe.


Crab Roe Huatian Glazed Glass Dumpling
In ancient China, women wou...
In ancient China, women would have an ornamental design, called a huatian, in between their brows as part of their makeup. The chef, inspired by this stylistic trend, created a dish and paid tribute to this cultural practice by incorporating the term huatian into its name. The generous portion of crab roe from autumn crabs makes the dish even more divinely irresistible. Each of the many steps that go into making this dish is carried out meticulously by hand. Organic white gourd is used to create a translucent jade-colored pouch that reminds one of glazed glass. This delicate pouch is filled with crabmeat, crab roe, and organic shiro shimeji mushrooms. A bite into this exquisite dumpling brings forth a burst of flavors harvested from both the mountain and the sea. The refreshing taste of the chicken soup, the sweetness of the crabmeat, and the fragrance of the crab roe fill the diner's mouth with the very first taste.


Cinnamon and Chicken Drumstick Wrap
Solidly-built and succulent...
Solidly-built and succulent chicken drumsticks from free-range chickens are marinated for an entire day with indigenous cinnamon leaves, which are native to Taiwan and carry a light and sweet flavor. Then, basil leaves and onions are added for additional flavoring before the meat is wrapped in banana leaves and roasted. The unique taste of the dish is absolutely captivating!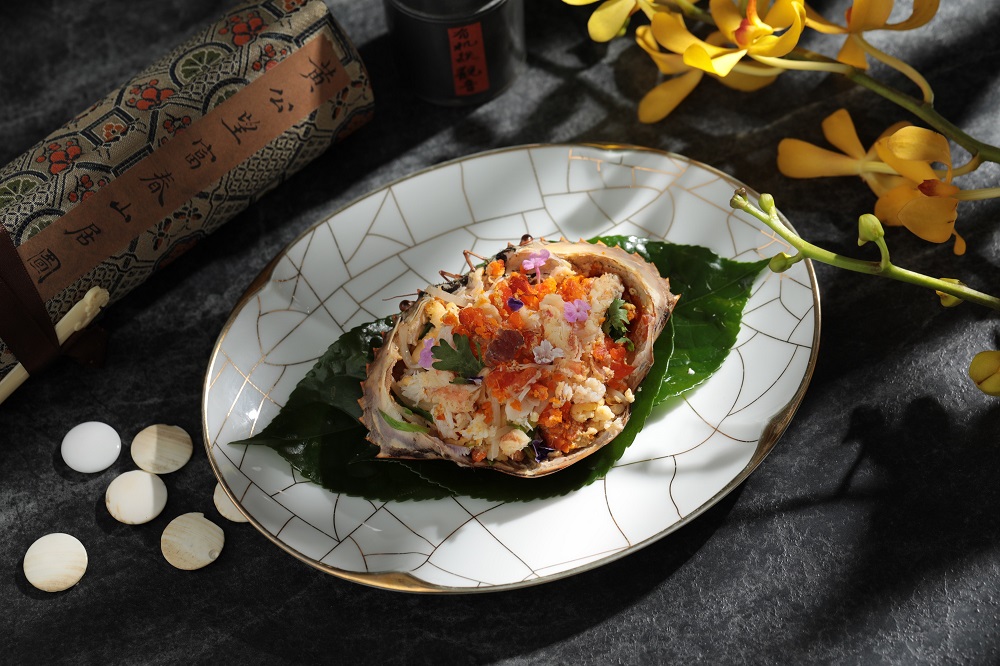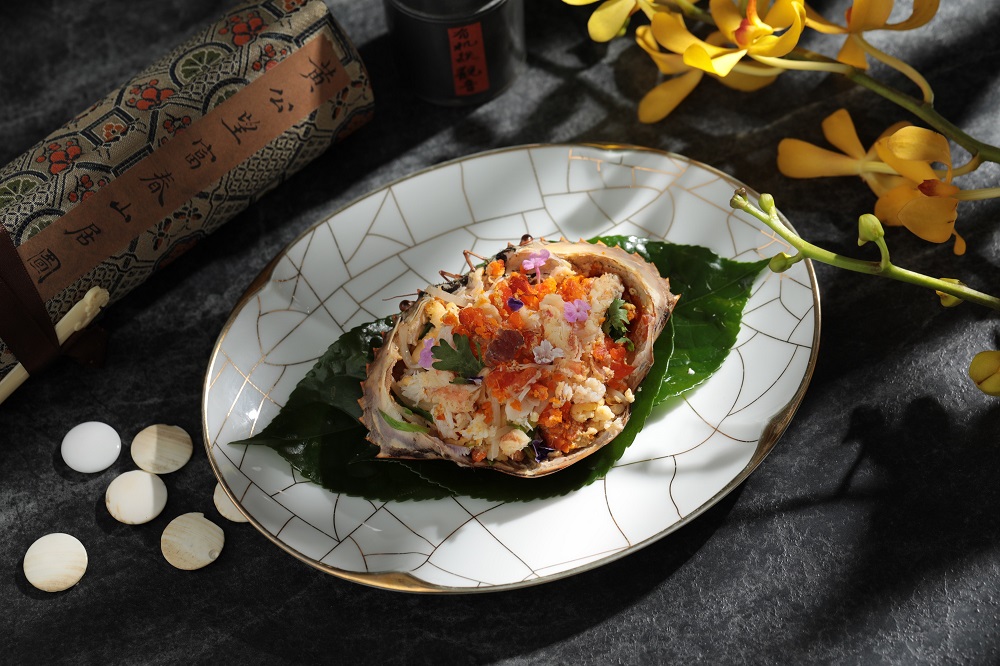 Osmanthus Xiefen
The crab paste and crab roe...
The crab paste and crab roe used in this dish are obtained from fresh seasonal crabs by chefs every day by hand, which are then fried until oil is produced, before delectable crab meat is added to the mix. The result of this complex culinary process is commonly referred to as "crab powder" and boasts a taste that is heavenly and extravagant. Duck eggs are then mixed in and stir-fried quickly over a strong fire so that the egg turns golden and fine, visually resembling osmanthus flowers. This aromatically arresting dish is one that puts the chef's control of heat and fire to the test. It brings together the crisp and sweetness of bean sprouts, bamboo shoots, and water chestnuts, the aroma and chewy texture of duck eggs, and the freshness and succulence of autumn crabs. Every mouthful of the dish is the product of exceptional skill.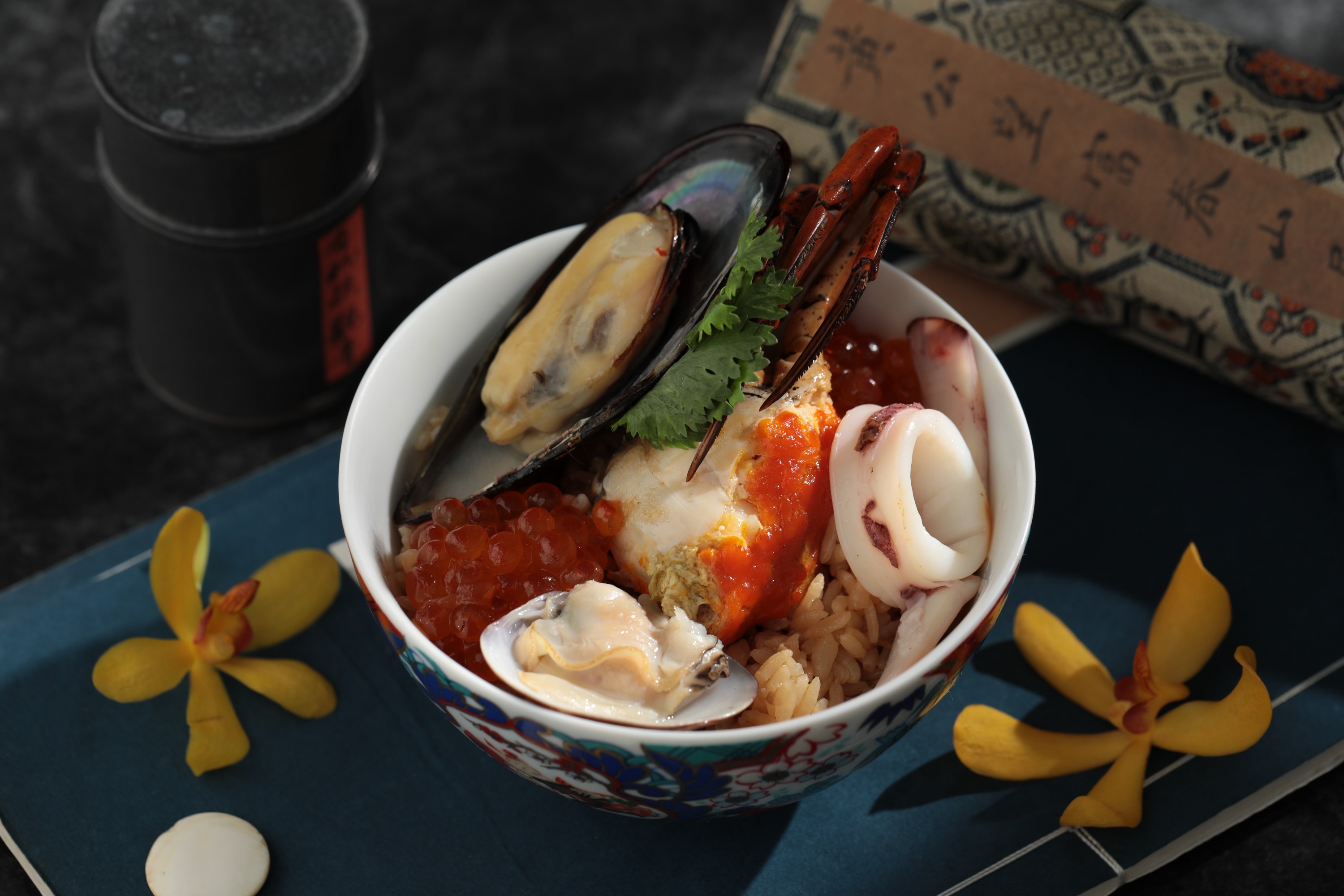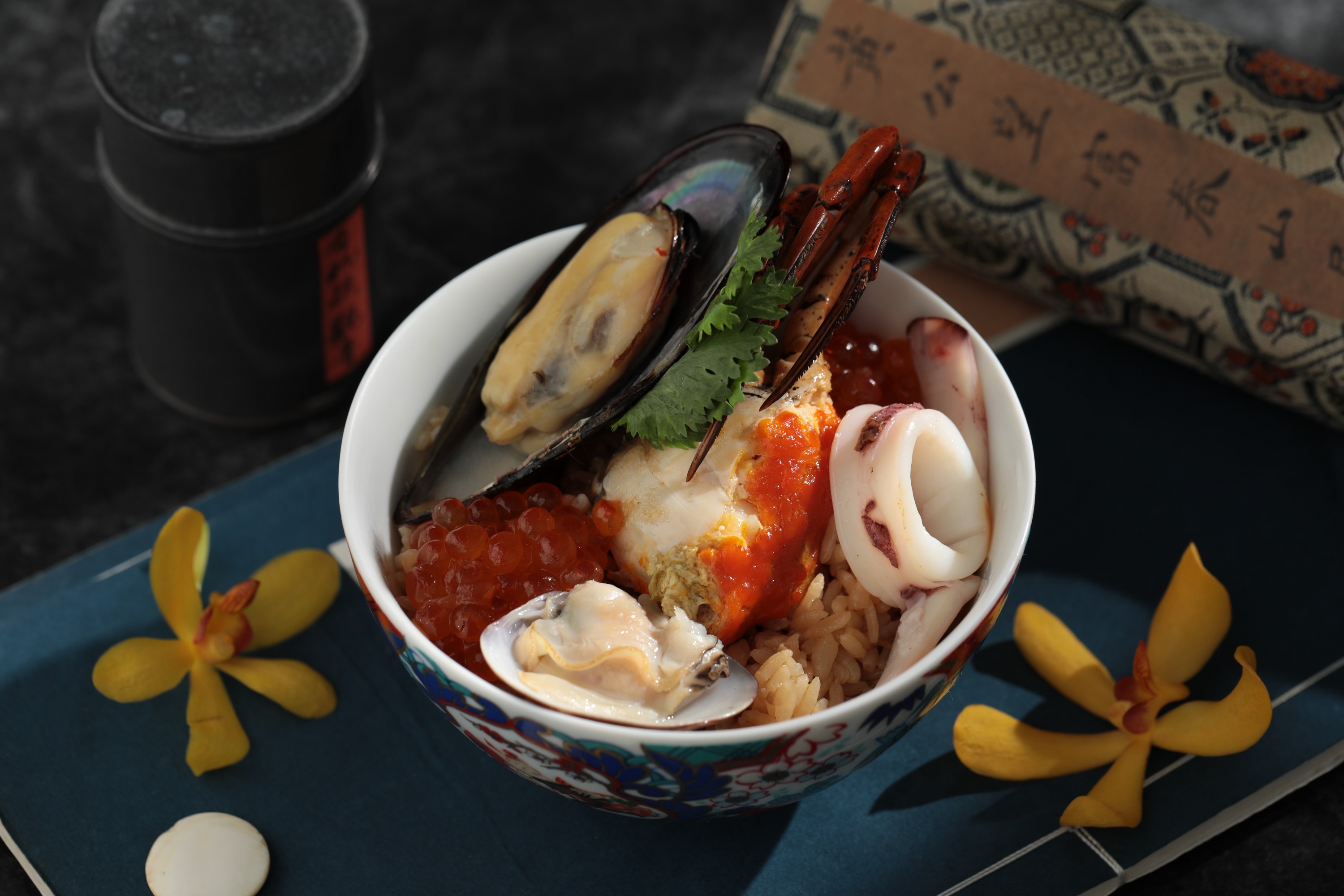 Premium Mud Crab Seafood Rice Cake
Live wild crabs have been c...
Live wild crabs have been carefully selected to be the star of this dish. These crabs are fleshy and well-grown, each weighing a minimum of 12 liang (around 450g), and have been tested for veterinary drugs and heavy metal residues, making them a safe and hearty meal to be enjoyed. The succulent and sweet crab meat is placed on the aromatic rice cake that has been stir-fried with log mushrooms, chestnuts, and sun-dried shrimps from Penghu. Then, the dish is steamed, during which the glutinous rice soaks up the savory goodness of the juicy crab meat. The mouth-watering rice cake and rich-tasting crab meat are then brought together with various seafood delicacies such as braised abalone, mussels from Matsu, salted squid, clams with garlic, and salmon roe from Japan. The dish is a seafood carnival starring the best seafood that Taiwan has to offer.


Circles Soup (Ling Long Soup)
This dish takes its name fr...
This dish takes its name from the act of fishing vainly around and around one's soup for a tasty morsel, as if your spoon were being led in circles. This soup is highlighted by a bundle of fresh, piquant spices, immersed in a richly flavorful broth made of free-range heritage chicken and seasonal vegetables, cooked until they are translucent and meltingly soft.


Almond Jelly
Yilan Chef A-Hai's signatur...
Yilan Chef A-Hai's signature banquet dessert. A mix of peanuts and almonds, hand whipped for 40 minutes, and transformed into the perfect gelatin dessert. A delicious jelly with no artificial flavors or additives.


Seasonal Fruit
A selection of the choicest...
A selection of the choicest organic, seasonal fruits from across Taiwan.
The above price is subject to 10% service charge.
This set of tableware and dishes are for reference only.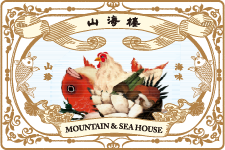 Address
No.94, Sec. 2, Ren'ai Rd., Zhongzheng Dist., Taipei City 100, Taiwan
Autumn Crab Set Menu
NT$ 3680/person
Pomelo Crab Jelly Pie

Chef's Special

Crab Roe Huatian Glazed Glass Dumpling

Cinnamon and Chicken Drumstick Wrap

Osmanthus Xiefen

Premium Mud Crab Seafood Rice Cake

Circles Soup (Ling Long Soup)

Almond Jelly

Seasonal Fruit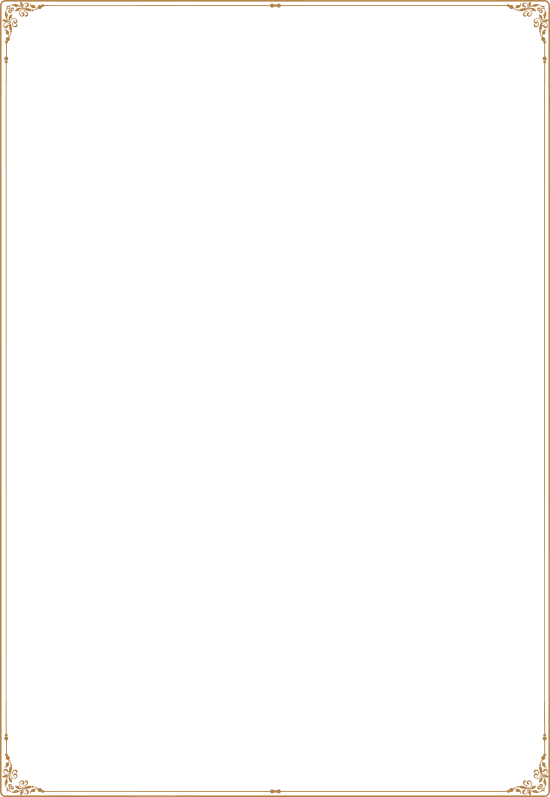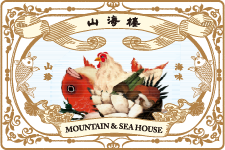 Mountain and Sea House

Address

No.94, Sec. 2, Ren'ai Rd., Zhongzheng Dist., Taipei City 100, Taiwan

facebook

">